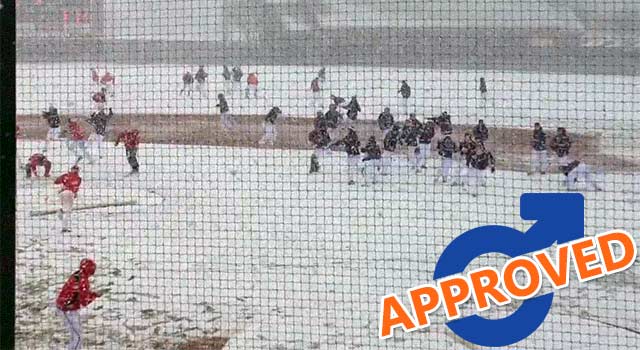 With spring training in full swing for MLB and many colleges, some teams have had some snow to contend with early on thanks to this temperamental weather. So when a heavy snowfall interrupted the baseball game between the Dayton Flyers and Gardner-Webb Runnin' Bulldogs, the two teams took the field for warm ups and did what the boys of summer do best - just have fun.
Dayton and Gardner-webb were tied up in a scoreless game when a weather delay forced the umpires to call the game as a tie in the sixth inning. Who wants to see a tie though? Not these two teams. Now say this next line in the voice of the guy from all of the movie trailers: When their baseball game was declared a tie, they decided to settle it on the field. With snowballs.
Sounds epic right? Check out the video below.