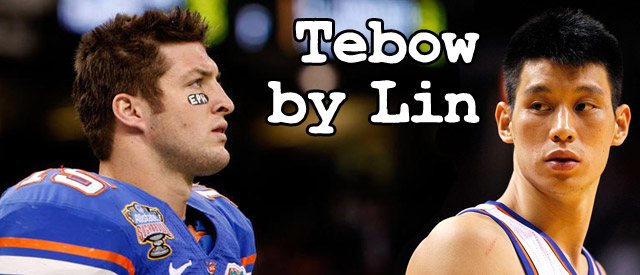 I'm a big fan of Tim Tebow. I'm sure some people will cringe when I say that, and some people will tingle that someone else likes him too. He's an enigma, and a divisive one at that. I think he's an ok football player, but he seems like a completely solid dude. He's also probably the first ever backup quarterback to be considered one of the 100 most influential people in the world.
Time Magazine just released their list of The 100 Most Influential People in the World and Tebow was there. Along with two US presidential candidates, the new head of Apple, and several world leaders was the QB that just got traded for a fourth-round draft pick. Of course, Chelsea Handler is also on the list so in comparison he seems way over-qualified.
Every year, other famous people write about the famous people on the list and this year is no different. Jeremy Lin wrote Tebow's entry. Here is an excerpt:
Watching Tim Tebow play football, you can observe many things about his character. You see his fierce competitiveness, his strong work ethic and how he is a leader that his teammates trust and respect.
That is all true, and Lin continues on in the short bio with remarks about Tebow off the field. It's just too bad he couldn't get team ownership to trust him and now has to deal with Rex Ryan.
I agree with the choice since, love him or hate him, most people have heard about him. And the charity work he does and the faith he shows is a rallying point for so many people. Keep up the good work, Tebow. And for those of you who don't like him, just re-post this on Facebook and talk about how horrible of a writer and human being I am for liking him. It'll be great publicity!