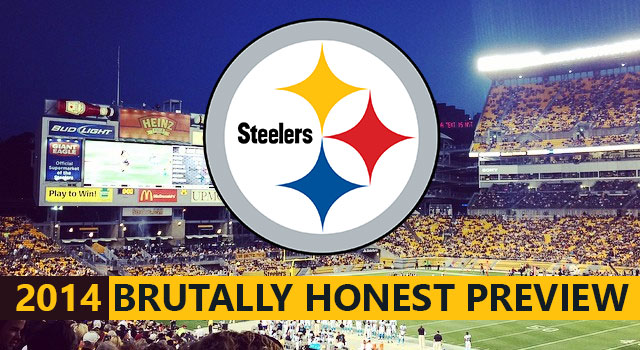 When we last left our heroes, they were…scratch that, the Chiefs were putting an end to one of the most bizarre seasons in the history of sports. The Steelers somehow failed their way to success on the last day of the regular season, needing about ten miraculous results to improbably qualify for the playoffs, and getting 9.99 tenths of the way there before the combined forces of Ryan Succop and the NFL's stupid rulebook and even stupider officials struck them down. Three times I danced around my living room with my friend Vince because "We're going to the playoffs!" and three times we looked (even more) stupid as a result.
Will the Steelers manage to take matters into their own hands and feet this time? Will Bill Hillgrove stop calling every receiver the wrong name? Will I ever get a life and stop caring so much about something so inconsequential (of course not, I'm from Pittsburgh)? I don't know, but I think I can make some educated guesses. I'm going to rank each starter from every depth chart position by talent and intangibles, then throw out some realistic scenarios for all followed by my prediction.

Quarterback: Ben Roethlisberger
Talent: B+. Intangibles: B-.
Roethlisberger continues to play like an upper-echelon quarterback while being treated like an afterthought by the organization. All he does is prove himself despite a lack of talent at receiver, a lack of faith in him running a no-huddle offense, and the fact that he actually married a mentally competent human woman. The Steelers would be in huge trouble without him. So far this offseason his request for a receiver to be drafted early was denied and he got nowhere in negotiations for a new contract.
Best case scenario for this season: The homebuilders, dog-watchers, and Ronald McDonald all combine their efforts to destroy Todd Haley and he's somehow incapacitated before the season starts. The team, still smarting from the fact that they are going to fund extra seating at Heinz Field themselves, decides not to hire a replacement due to lack of funds. Roethlisberger runs the offense himself, narrowly avoiding injury on every single play. He wins 12 games virtually by himself, and Cris Collinsworth manages to compliment him once in a three-hour broadcast, the first time he's been positive about the Steelers in my lifetime.
Worst case scenario for the season: It's revealed that Nate Washington is the real father of "Roethlisberger's" children, once again proving that without Nate Washington, Ben just doesn't have what it takes. As punishment, the Steelers decide to keep treating Roethlisberger the way they always have.

Wide Receiver: Antonio Brown
Talent: B-. Intangibles: D.
I do not much care for Antonio Brown. I never did, and then he stepped out of bounds for no reason on his way to the end zone against Miami, nullifying one of the greatest plays in Steelers history. This made me look foolish, as I had yelled to everyone else in the section of my box at Heinz Field (I was only there for this game, because nobody wanted the tickets) before the play started that Todd Haley was saving up his super-secret, unstoppable, season-saving masterpiece for just such an occasion, and I was almost right. Every time I complain about him doing something stupid on the field, my Mom says I should cheer for him because he had a rough upbringing. He did have a rough upbringing, but Max Starks had a remarkably similar upbringing. They were both sons of professional football playing fathers who weren't around much. When is the last time Max Starks broke into a 3 minute dance routine after a 4 yard gain? I rest my case.
Best case scenario: Brown continues to improve despite the fact that Emmanuel Sanders is gone (Hallelujah!) and he's really a number two receiver pretending to be a number one. Roethlisberger realizes the hopelessness of politely asking for a receiver with some size and decides to make the best out of a scenario full of targets that couldn't out-jump Doug Flutie.
Worst case scenario: Roger Goodell outlaws the Sprinkler, the Nae Nae, the Dougie, the Macarena, and the Ickey Shuffle before the season starts.

Halfback: Le'Veon Bell
Talent: B- Intangibles: F-
Bell had trouble staying healthy, but looked good when he was in the lineup. Even better, he managed to not give a single opinion on the 9/11 attacks, Osama bin Laden, chemtrails or the Illuminati. He's listed at 6'1, 244 pounds. He sure doesn't look that big to me, but maybe he got weighed right after eating three pizzas and drinking a cube of Faygo?
Best case scenario: Bell stays healthy all season and as far from Twitter as possible.
Worst case scenario: The passing game fails to get going early and defenses stuff the run all year long. LeGarrete Blount can't figure out how to cheer him up, but finally figures out just what the doctor ordered: an off-season following Phish on tour.
Fullback: Will Johnson
Talent: C Intangibles: B-
Johnson is alright, I guess. Having a fullback is better than not having a fullback. The running game really hasn't significantly improved since Haley came in and made this decision, though. Johnson was named to the 2012 mid-season all-rookie team, but only has two career rushing attempts for 7 yards. Somewhere Tim Lester is hanging his head in disappointment.
Best case scenario: Johnson gets to do more than run passing routes where he's the 7th check-down option.
Worst case scenario: Haley gets amnesia in the midst of one of his patented illegal schemes and wakes up thinking he's Bruce Arians.

Left Tackle: Kelvin Beachum
Talent: N/A Intangibles: N/A
I'm going to cut to the chase here: the only way to properly rate most offensive linemen is to either go to the games or pay attention to the commentary on TV for all three hours. I don't go to very many games and Cris Collinsworth makes me wish I were deaf.
Best case scenario: Does such a good job that nobody notices him all season long.
Worst case scenario: Performance leads to gratuitous amounts of Mike Adams on the field.
Left Guard: Ramon Foster
See: Kelvin Beachum.
Center: Maurkice Pouncey
Talent: B- Intangibles: F-
I really don't understand why the Steelers keep bothering with this guy. Roethlisberger thinks he's great, but the organization doesn't care what Roethlisberger thinks. If you think I'm just referring to his off-the-field idiocy, think again. He missed a Super Bowl because the team "wouldn't let him" play through an ankle injury. Compare this to Terrell Owens, one of the biggest drama queens in NFL history. Owens suffered a worse injury in 2004, laughed off team doctors who said his ankle wouldn't be fully healed until several weeks after the Super Bowl, and kept the Eagles in the game despite the fact that Donovan McNabb was literally vomiting their chances away and forgot how many seconds are in two minutes. Plus, if he's really so great, why was Fernando Velasco able to come in off the street and run the offensive line? Cody Wallace did a fine job as well after Velasco was senselessly injured on a play that shouldn't even have happened (Bell scored but his helmet was knocked off so the play was ruled dead before he scored. Bell himself was nearly ruled dead after the shot he took from Jimmy Smith, and Velasco tore his Achilles on the ensuing play).
Best case scenario: Nobody touches him all season long, on the field or off.
Worst case scenario: Even Tim Tebow forsakes his old college teammate.
Right Tackle: Marcus Gilbert
See: Kelvin Beachum.
Right Guard: David DeCastro
Talent: B Intangibles: B-
DeCastro hasn't lived up to the hype yet, but I have a good feeling about him. Is it because he ended Pouncey's season last year (I don't wish for injuries but this seemed like karma to me)? Is it the fact that new offensive line coach Mike Munchak will likely improve his technique? Is it the fact that he looks just like Elvis would've if he would've sprinkled some steroids into his peanut butter and banana sandwiches? Maybe it's all three.
Best case scenario: DeCastro stays healthy and manages to only chop-block guys wearing different colored pants than he is.
Worst case scenario: In a cruel twist of fate, one of Pouncey's enemies mistakes DeCastro for Pouncey while out for revenge.

Tight End: Heath Miller
Talent: B Intangibles: B-
Miller had a pretty good year after suffering a gruesome knee injury to end his 2012 campaign. There's not much more to say aside from the fact that he doesn't get thrown to as much as he should but he's a tight end for the Steelers so what do you expect?
Best case scenario: Haley is haunted by the ghosts of Eric Green, Mark Bruener and Jay Riemersma, despite the fact that they are all still alive. They convince him that throwing to the tight end is really a good thing.
Worst case scenario: Miller is once again the only lineman capable of blocking.

Defensive Ends: Cameron Heyward and Cam Thomas
Thomas' Wikipedia page makes reference to nothing outside of his football career. Hopefully this means that as soon as practice ends he goes home, paints the shutters, tucks in his kids (if he has any kids? The Wikipedia page for Area 51 is more helpful), and never answers the phone when his teammates call.
Best case scenario: Heyward continues to not be Ziggy Hood.
Worst case scenario: Thomas can't fill the hole in his life that used to be occupied by meaningful conversations with Manti Te'o's girlfriend while with the Chargers, and the sadness this leads to drags Heyward down as well.
Nose Tackle: Steve McClendon
Talent: C+ Intangibles: C
Every year, sources around the team say McClendon is looking incredible in training camp/practice and ready to break out. Then the real games start and he's invisible.
Best case scenario: McClendon manages to make it into the backfield more than 9 times, and the majority of them aren't because he got pancaked.
Worst case scenario: Another year of unwarranted hype and very warranted disappointment.

Outside Linebackers: Jason Worilds and Jarvis Jones
Talent: B- Intangibles: C+
Jarvis Jones has finally won the starting job, which is good news to everyone in Pittsburgh but Cris Carter's mother. Worilds' numbers skyrocketed last year, but was he just motivated by being in a contract year? We'll soon find out.
Best case scenario: Worilds keeps up his play from last year. Joey Porter's mentoring of Jones pays off and he develops a mean streak.
Worst case scenario: Worilds was a fluke and Porter's mentoring of Jones only leads to criminal charges.
Inside Linebackers: Lawrence Timmons and Ryan Shazier
Talent: B- Intangibles: B-
Rookie Ryan Shazier won the starting job after one good preseason game, which is more than you can say for virtually everyone else on the team. Timmons had a weaker year statistically than in 2012, but turned into one of the leaders of the defense after Larry Foote was injured.
Best case scenario: A better overall defense allows Timmons to replicate his numbers from 2012, and Shazier is happy enough with his salary to not resort to selling his pants, unlike some of his fellow Ohio State alums.
Worst case scenario: Timmons regresses and Shazier fails to adjust to the speed of the NFL, leading to the fanbase to call for the team to acquire Christian Kirksey, thinking that even if he is really 1 foot, 2 inches tall in real life, he can't be any worse.

Cornerbacks: Ike Taylor and William Gay
Talent: D- Intangibles: D-
The grades for these two would be F-'s if not for Gay, who has been improving on the field and never makes himself sound like an idiot off it, unlike Taylor, who gets worse by the quarter and dumber by the interview.
Best case scenario: Joe Flacco gets hurt and can't torch Gay like he usually does, and Taylor falls down a well before week 6.
Worst case scenario: Every other quarterback in the league figures out how Flacco does it, making Gay look like a total stiff all season long. Ike Taylor is mic'ed up for every game.
Free Safety: Mike Mitchell
Talent: B- Intangibles: B-
I haven't seen much of Mitchell, but he hits hard, forces turnovers, and loudly voices his dislike of Roger Goodell. I think he's going to be a perfect fit on this team.
Best case scenario: Mitchell doesn't get suspended and fits right in at safety where Ryan Clark used to.
Worst case scenario: He was just playing for a contract last year with Carolina and misses the three inch zone on an offensive player where hits are still legal multiple times.
Strong Safety: Troy Polamalu
This could be the last year for Polamalu. It's going to be difficult to still cheer for the Steelers when he's gone. I remember the days before he arrived, but the entire league has been getting worse in almost every category, and so have the Steelers. Sigh.
Best case scenario: The stronger linebacking corps (as opposed to the corpse it resembled at times last season) allows Polamalu to actually play safety again, reducing the burden on him and leading to several incredible plays.
Worst case scenario: Polamalu is forced to try to make a lot of tackles.

Kicker: Shaun Suisham
Talent: A- Intangibles: A+
Suisham was a lone bright spot for most of last season. He routinely botched big kicks before arriving in Pittsburgh but has turned into a real asset for the Steelers, even competently handling punting duties when called upon.
Best case scenario: Suisham continues playing like he always has since becoming a Steeler.
Worst case scenario: Retires in October to pursue his true calling as an athletic Canadian: playing wing on a line with Sidney Crosby. Sheetz employees around America shudder.
Punter: Brad Wing
Who is Brad Wing? This really doesn't matter. The last three punters for the Steelers when they made it to the Super Bowl were Chris Gardocki, Mitch Berger, and Daniel Sepulveda.
Best case scenario: The season concludes and Brad Wing is still mysterious, because nobody noticed his play all season long.
Worst case scenario: Wing becomes infamous for some reason. This is almost always a sign that he didn't follow the Steelers' Guide To Punting Success, which involves being as average as possible.
Overall: I don't think any of the other teams in the North have significantly improved. This will be another weird season, but not as weird as last season. The Steelers will win the division but probably lose early in the playoffs. But every time I think this they end up on some improbable Super Bowl run, so don't put much stock in my opinion.