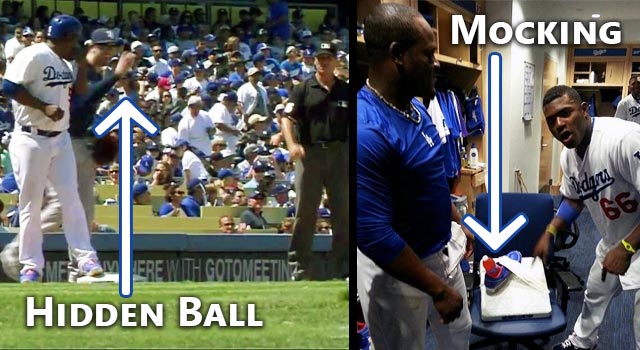 Before Saturday, we thought the hidden ball trick only happened in Little League. But thanks to the Tampa Bay Rays and Los Angeles Dodgers we know that even Major League Baseball players can fall for the trick.
Are you ready for the complicated explanation? Here goes:
In the bottom of the fourth inning of their game on Saturday, A.J. Ellis hit a sacrifice fly, Andre Ethier scored from third base, Juan Uribe took his place on third base, and Skip Schumaker went to second. While Uribe was casually staring at his feet, first baseman James Loney cut off the throw to home from the outfield and tossed the ball to shortstop Yunel Escobar, who then casually threw it to third baseman Evan Longoria. Longoria held onto the ball for a few seconds without Uribe or third base coach Tim Wallach noticing, and as soon as Uribe took his foot off the bag Longoria tagged him for the out.
It was the first successful hidden ball trick in MLB since 2007, and the video is below. Props to umpire Angel Hernandez for not blowing Evan Longoria's spot. Hernandez almost looks proud of Longoria when he gets to call the out.
You can also check out the photo that Yasiel Puig posted on Twitter below. Juan Uribe isn't going to live this one down anytime soon.