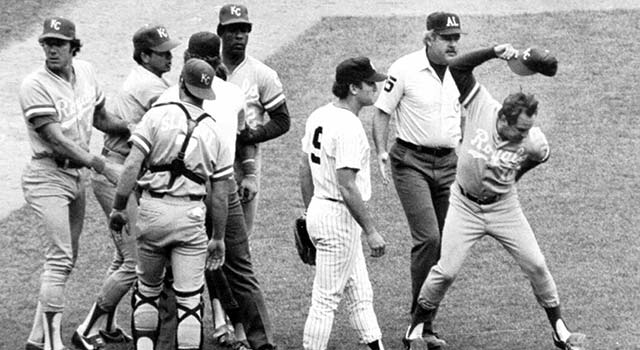 Thirty years ago today my childhood hero, George Brett, started a long history of New York Yankee hating for me. Today is the 30th anniversary of the infamous "pine tar incident" that people still talk about today. Here's the overview:
The Yankees and Kansas City Royals had a budding rivalry in the early 80's which peaked 30 years ago when Yankees manager Billy Martin picked up Brett's bat as he rounded the bases after hitting a two-run homerun off of HOF closer Goose Gossage. The Yankees were sure that Brett had been corking the bat, only they didn't find any signs of cork. So instead, Martin did find more than the allowed 18 inches of pine tar.
While Martin was pleading his case to umpire Tim McClelland, Brett paced back and forth yelling things that would be censored if I posted them here. Once McClelland called Brett out and ending the game 4-3 for a Yankees win, what happened next is a thing of legend.
Watch the video below as Royals legend and hitting coach George Brett looks back on the Pine Tar Game on the eve of its 30th anniversary.