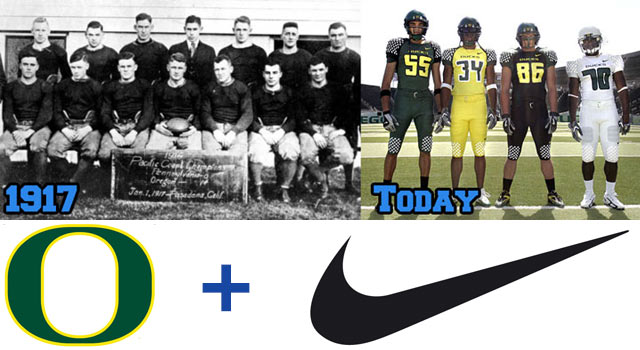 Oregon has been playing football since 1893, but it's only been recent that they've had a winning tradition. They're from little Eugene, Oregon which, for me, was best known for being a lyric in the Sublime song "April 29th, 1992" up until the mid-2000's when the Ducks started playing decent football. How did they become the team that they are now though? Could Nike be behind the success of the Ducks? Yup. Take a look at this excerpt from an excellent article from grantland.com:
Oregon clearly is the beneficiary of its unique relationship with Nike boss Phil Knight, a 1959 alum who has used his fortune to give the Ducks every potential material advantage. But the most consistently conspicuous portion of Knight's lavish contributions are the team's much-discussed uniforms — the yellows and the greens, the blacks and the grays, the highlighter neons and the stormtrooper whites, the many different helmets and jerseys and pants and socks and shoes, the more than 500 possible combinations in all.

The football Ducks of Oregon are something new. They didn't get people to watch because they got good. They got good because they got people to watch. They are college sports' undisputed champions of the 21st century's attention economy.
The article is a good reminder that you don't have to be a college with a rich history to be successful, you just have to have rich alumni.
---
While researching Oregon's football history, I found this interesting bit about their old uniforms...the Donald Duck version.
Beginning in 1940, cartoon drawings of Puddles (the Ducks mascot) in student publications began to resemble Donald Duck, and by 1947, Walt Disney was aware of the issue. Capitalizing on his friendship with a Disney cartoonist, Oregon athletic director Leo Harris met Disney and reached an informal handshake agreement that granted the University of Oregon permission to use Donald as its sports mascot.

When Disney lawyers later questioned the agreement in the 1970s, the University produced a photo showing Harris and Disney wearing matching jackets with an Oregon Donald logo. Relying on the photo as evidence of Disney's wishes, in 1973, both parties signed a formal agreement granting the university the right to use Donald's likeness as a symbol for (and restricted to) Oregon sports. The agreement gave Disney control over where the mascot could perform and ensured that the performer inside the costume would "properly represent the Donald Duck character."
I still like the Donald Duck logo.
[Nike Article via Grantland]
[Donald Duck via Wikipedia]