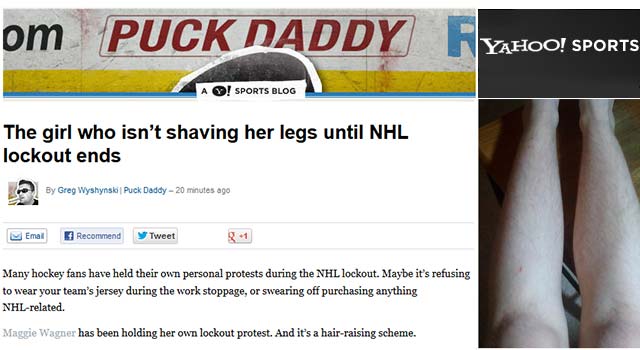 A girl named Maggie Wagner has decided to not shave her legs until the NHL lockout is over, and she's now a faux-celebrity because of it. Yes, you read that right. Today, Yahoo's "Puck Daddy" blog has posted an interview with Wagner, and she is now certain to become a minor footnote in internet history over the course of the next 48 hours.
Why are we posting this? Because the lockout needs to end. Now. When Yahoo is stuck paying Greg Wyshynski to interview a girl who hasn't shaved in 100 plus days and calling it "news" then it's time to re-think one of two things: either the lockout, or Yahoo continuing to host an NHL page on their sports site.
I'm hoping that the lockout ends, and we don't have to continue seeing anymore "journalism" like this, but if the NHL owners and the Player's Union can't come together on an agreement, then I think it's time to wind down Yahoo's NHL coverage and dedicate the space to something more important than this: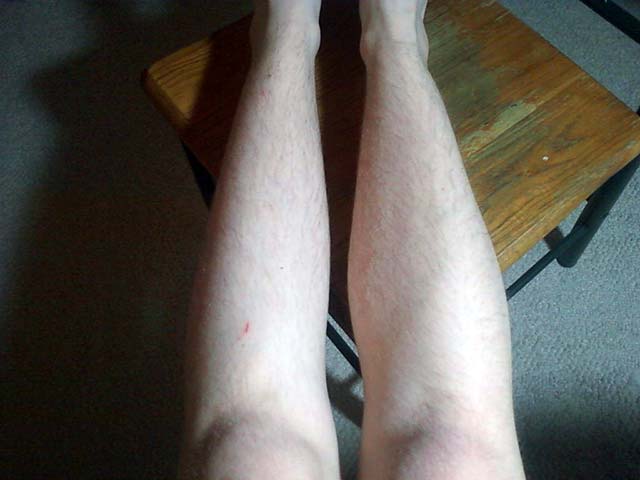 Yes, that's her legs. The kicker is that they're not even that hairy.
Your move, NHL - it's you or the Yahoo.
[Photo Source - Maggie Wagner's Twitter]