I've never been a Cleveland Browns fan. Ever. Never, ever. But I will say this; I'm rooting for Colt McCoy. I'm not sure exactly why, but there's something I like about the guy. Plus, it seems like everyone in Cleveland hates the guy and I feel like the fans need to be more accepting there; especially considering he's the first decent QB they've had since Derek Anderson's one OK season in 2007. I don't know why they would be so hard on a guy after having such dignitaries as Seneca Wallace, Brady Quinn, Ken Dorsey, Charlie Frye, Kelly Holcomb, Luke McCown, Tim Couch, Doug Pederson, Spergon Wynn, and Ty Detmer line up behind center for them since they came back to the NFL in 1999. Seriously, that list is ridiculous. So with that being said, I'm disappointed that Colt McWhitehurst has to be our star of This Week In Bad Quarterbacking.
Who's Colt McWhithurst? The two starting quarterbacks in the Seattle Seahawks - Cleveland Browns debacle this weekend that ended in a 6-3 win for Cleveland. Yes, 6-3...three field goals in one hour. Exciting football! Let's break some of the stats down:
Total points in this game: 9. Total points in the Rangers-Cardinals World Series BASEBALL Game the night before this one: 23.
The score of the losing team in the game was 7. Yes, the Texas Rangers lost a baseball game and still scored more points than the winner of this NFL game.
The QB rating in the game for Charlie McWhitehurst was an acceptable 94. Unfortunately, those numbers don't stand up individually since you have to add Charlie Whitehurst's 35.0 to Colt's 59.0 to get there.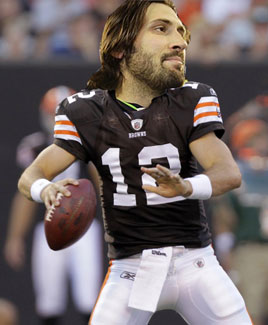 That's A Scary Picture

To be clear, Colt was the better of the two Quarterbacks here, but it was still a debacle. After the game, Pete Carroll stopped short of blaming the referees for the Seahawks loss, but made several comments that seemed to imply that was exactly what he was doing. Hey Coach, how about blaming yourself for wasting a couple draft picks, two years, and $8 million on Charlie Whitehurst (who had thrown a total of 0 passes in four years in San Diego) or another $8 million on Tarvaris Jackson. That's almost as much money as he spent getting Reggie Bush to USC. (Yeah, I said it)
---
In other news:
Joe Flacco was terrible. And now John Harbaugh is defending his "Elite Status" as a QB. He's not elite, and his 137 passing yards against Jacksonville showed that. He was even the worst receiver on the team too, with one pass to himself on a deflection for -8 yards. Nice work, Joe!
Carson Palmer and Kyle Boller combined for 6 interceptions against Kansas City. Awesome. Nothing else to say about that.
Aaron Rodgers is officially invincible. He raised his season stats to 7 games, a 125.7 rating, with 2372 Yds, 20 TD and only 3 Int.
Somehow with a rating of 59.2 and 2 Int to go with his 2 TD's and a loss, Christian Ponder was hailed as a great player who is the future of the Vikings. Tim Tebow had a 91.7 rating, 2 TD's, 0 Int's and led his Broncos to a win and the jury is still out on him. What? C'mon Man!
See you next week!