Remember the basketball Dream Team from the 1992 Olympics? Michael Jordan, Pippen, Stockton and Malone, Magic, Bird, Ewing...this was a team for the ages. And the names just rolled off the tongue; unlike Nnamdi Asomugha which I still don't know how to pronounce. Vick is a little easier to say, but man he was hard to watch yesterday. Although he threw for 300 yards and became the all-time leading rusher for a Quarterback in the NFL, he threw for four interceptions, wasted a lot of time at the end of the first half, and took his team down. The Dream Team.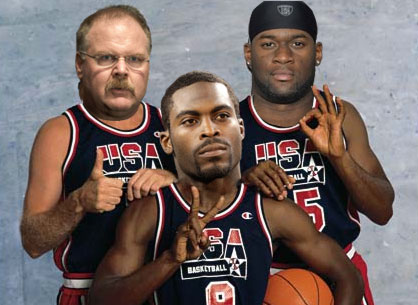 I think Reid looks like he can still ball.
So far the Eagles buying a championship hasn't worked out too well, but never fear...the Eagles only have to go 9-1 the rest of the year to put themselves in good position for the playoffs.
---
In other news:
That's it folks, see you next week!