For this weeks bad quarterbacking champion, I could go with one of the obvious choices: Sam Bradford and his 49.9 QB rating during the Rams one shot at national television, Josh Freeman of Tampa Bay getting outplayed by Blaine Gabbert, whoever is playing QB in Indianapolis, or even Ryan Fitzpatrick and his two interceptions in the Bills sixth straight loss. For some reason another quarterback has been flying under the radar despite looking like his primary objective is playing catch with opposing defensive backs, and this week was no exception for Carson Palmer:
He added four interceptions this week, bringing his season total to 13 in only 7 games.
His one touchdown was in garbage time at the end of the game.
Most importantly, this is the guy the Raiders traded a first round and second round pick for.
Oh yeah, they also gave him $40.5 million over the next three years.
The Raiders were 4-2 before Carson got to Oakland, and they're 3-4 since. What's interesting is that Palmer has had two games with a QB rating over 100, and the Raiders have won both of those games.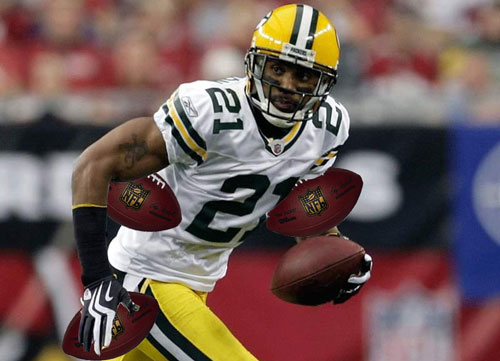 The Packers Made Interceptions Look Easy Against Carson Palmer

You can't put all the blame on Carson, in reality he was a retired quarterback who was probably sleeping in when his phone rang to tell him that he was finally traded from the Bengals to the Raiders. And Al Davis has made some bad moves over the years, but this was after his unfortunate passing. I think we really know who to blame here: Jason Campbell. If you wouldn't have gotten hurt, Carson Palmer would still be retired, the Bengals would still look crazy for sitting on Palmer, and the Raiders would have...well...they probably still wouldn't have made the playoffs, but they wouldn't have Carson Palmer to blame.
Congrats Carson, on your best win since you signed with the Raiders - The Week 13 Bro Council Bad Quarterbacking Award.
We need to get a shorter name for the award...any suggestions?

---
In other news:
Marshawn Lynch makes it rain (in Skittles).
Legarrette Blount MAY have lead an attack on a Bucs fan.
Scott Pioli blamed Todd Haley for the Chief woes by firing him, and then "blamed himself" with words.
See you next week!