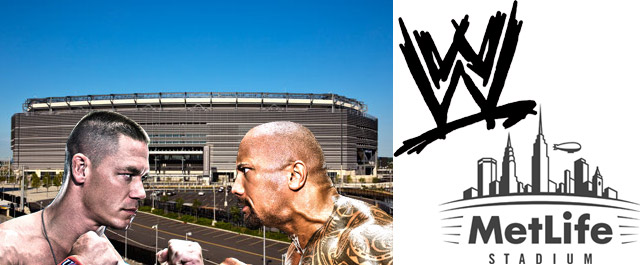 WrestleMania is the biggest event in pro wrestling. Even people who aren't fans of the WWE and the other organizations know about it. Just check out some of the things that have happened on the grand stage of WrestleMania:
They've had a world indoor attendance record of 93,173 people watch it live at the Pontiac Silverdome.
Mr. T has teamed up with Hulk Hogan to take on Rowdy Roddy Piper.
The Undertaker has won 19 straight matches to keep his record perfect.
Mike Tyson has been a "special enforcer" in a match with Stone Cold Steve Austin.
Stone Cold later wrestled his last match ever at WrestleMania. Other wrestlers to end their careers at WrestleMania include Shawn Michaels and Edge.
Donald Trump won the "Battle of the Billionaires" against Vince McMahon.
And Snooki from Jersey Shore wrestled there last year. Yeah, Snooki - they aren't all winners.
Now, for the first time WrestleMania will be held outdoors adjacent to New York City. Next year's event will be held at MetLife Stadium in New Jersey - home of the New York Giants and Jets. There have been other outdoor events, but none so far north. It should be an awesome event, and WWE has announced a press conference for later today with more info. Check out the press release below.
WWE Press Release:
East Rutherford, N.J.'s MetLife Stadium has played host to the NFL Playoffs, two NCAA college tournaments, five international team soccer games, and historic concerts from the likes of U2, The Eagles and Bon Jovi. And now, it's getting its first WrestleMania.
For the first time, The Show of Shows is headed to New Jersey's MetLife Stadium, home to the New York Jets and the Super Bowl XLVI Champion New York Giants, will host WrestleMania XXIX on Sunday, April 7, 2013.
The traditional WrestleMania Week activities, including WrestleMania Axxess, the 2013 WWE Hall of Fame Induction Ceremony, and Monday Night Raw will take place across the New York/New Jersey area in the days leading up to the show.
An official press conference will be held tomorrow, Feb. 16, at 11:00 a.m. at MetLife Stadium, where WWE Chairman & CEO Vince McMahon will be joined by New Jersey Governor Chris Christie, New York Giants President & CEO John Mara, New York Jets Owner & CEO Woody Johnson, NYC & Company CEO George Fertitta and a host of WWE Superstars, including John Cena, Triple H and Sheamus to officially announce the event. There will also be a special appearance by John Cena's WrestleMania XXVIII opponent, Dwayne "The Rock" Johnson.
The press conference is not open to the public, but WWE.com will be posting video and photo updates about the event throughout the day.