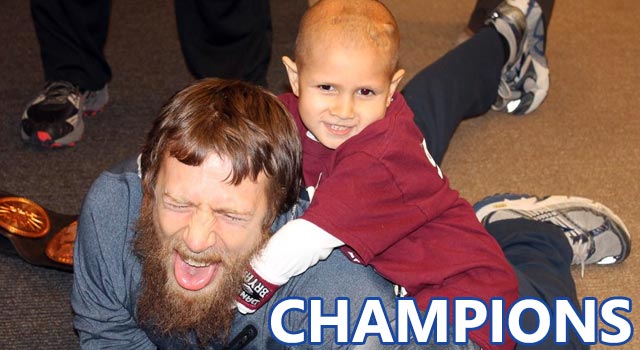 WWE was in Pittsburgh, PA recently to tape their Monday Night Raw and Smackdown tv shows. While the wrestlers were in town, WWE Superstar Daniel Bryan stopped by a hospital to meet 7-year-old Connor "Stone Crusher" Michalek.
"Where's the Stone Crusher (a nickname Connor gave himself)?" Daniel Bryan asked while he walked through a door at Consol Energy Center.

"I'm here," said Connor as he smiled.
Connor has brain and spinal cancer, and his family knows how much he loves wrestling so they started a Facebook campaign in hopes of WWE allowing Connor to meet his favorite wrestler. When WWE got wind of it, they invited Connor and his family to watch Raw and the most awesome thing happened - Daniel Bryan lost a match to the little boy by tapping out.
It is surely a moment that Connor will never forget, and it's a moment that makes us all choke up a little here at our headquarters. Yes, men can get choked up too.
Connor's mom, Brittany Caligiuri, said that Connor has undergone brain surgery, several other intense surgeries, nine rounds of chemotherapy, and six full weeks of full spine and brain radiation. She stays strong throughout the process though, and told a local news station that "We try to focus on the positive, and I try to enjoy him when he feels good. I try to put it in the back of my mind to get through it and focus on him and enjoy him."
We're rooting for you here Connor, and we're hoping you can take down this cancer just like you took down a WWE Superstar. Thank you for the inspiration.
Check out the video of the tap out below. If you're feeling generous afterwards, how about checking out the Pediatric Cancer Foundation and donating to help kids like Connor?