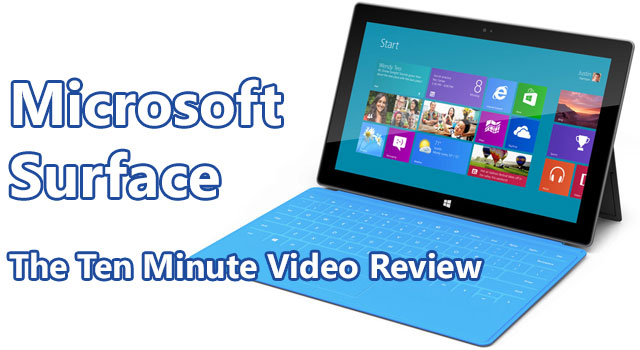 Microsoft released their first ever PC on Friday, the Microsoft Surface. We picked ours up, and are ready to review it for you.
Hardware
The first word I thought of as I pulled the Surface out of the box was: impressive. The tablet is beautifully designed, and it looks and feels like a super-premium device. Microsoft wants to make great hardware, and they hit it out of the park with this one. The magnesium case feels sturdy, and the industrial design is in my opinion the best of any tablet currently in production.
The box is pretty simply designed, and includes the Surface, manual, magnetic charger, and (since I spring for the extra $100) the Touch Cover. The Touch Cover is a jacket for the device with a felt like back, touch sensitive keys, and a capacitive trackpad. The keyboard works well out of the box, and after a few days of typing with it you'll be closer to your normal typing speed than with other tablets without an external keyboard. If I had to make a guess, I am about 70% of my normal typing speed. That's not perfect, but the keyboard is only a hair over 3mm thick so there's always some trade-off.
Specs:

OS: Windows RT; Microsoft Office Home and Student 2013 RT Preview (Word, PowerPoint, Excel, and OneNote).
Case: 1.5lbs, VaporMg casing, Dark Titanium color
Storage: 32GB, 64GB
Display: 10.6" ClearType HD Display, 1366x768 pixels, 16:9 (widescreen)
CPU: Quad-core NVIDIA Tegra 3
Ram: 2GB
Wireless: Wi-Fi (802.11a/b/g/n), Bluetooth 4.0
Misc: Two 720p HD LifeCams, front- and rear-facing, Two microphones, Stereo speakers, Full-size USB 2.0, microSDXC card slot, Headset jack, HD video out port
Software
Many people have been using Windows 8 for several months now, myself included. There has been some initial push back on the new design, but I am a fan of it on the desktop and now on a tablet. Microsoft has managed to standardize the user interface for their desktop computers, tablets, and even their Windows Phones. That is no small task, and although there will always be people ready to complain about any new change to something they're used to (cough...Facebook timeline....cough), they should eventually see the experience as an upgrade.
The software works great on the Surface, and the multitasking is the best I've seen on a tablet. The kicker for the Surface is the full versions of Office apps: Word, Excel, PowerPoint, and OneNote that are optimized for this version of Windows. Paired with a Touch Cover, you can get some serious work done on this tablet.
The only downfall is that their currently is a limited number of apps made specifically for the Surface. That should change soon though as any app made for the desktop versions of the new Windows interface should work on the tablet version as well.
Conclusion
The Surface is bound to be polarizing. Anything that competes with Apple will invariably have millions of Steve Jobs fans saying that it's confusing, lame, and stupid. Of course, they would say the same thing about the iPad if it was manufactured by Motorola. So for those of you who aren't tied into the Android ecosystem, or aren't followers of whatever new device Apple is putting out 6 months after their last upgrade, then you should check out the Surface. The price is right in comparison to competing tablets, the hardware is beautiful and extremely functional, and the apps will be coming.
Our verdict? The Microsoft Surface is Bro Council, Approved. If you want to see it in action, check out the Ten Minute Video Review below: