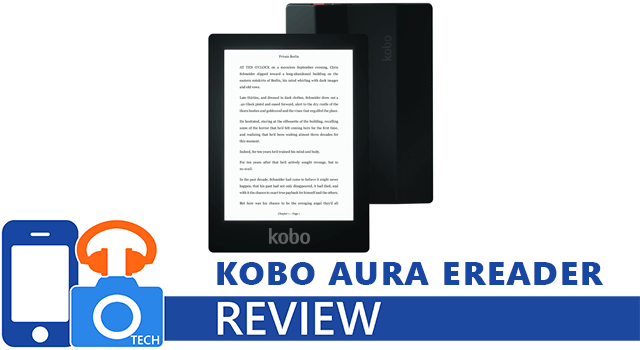 Let's start off this review by saying something we never thought we would say: this eReader is sexy. After using an original Nook and an old-school Sony Reader PRS-505 for most of my eBooking life, picking up the Kobo Aura just felt...right.
Is that a weird way to start the review? Probably. But if you end up buying one, you'll know what we mean. Now, with that out of the way, let's get down to business.

The Kobo Aura eReader
USB Cable
Manual
The Kobo Aura

The $149 Kobo Aura doesn't have as much name recognition as the Nook or Kindle line, but it does keep pace with it's more well-known competitors. The Aura comes with a 6-inch screen with a resolution of 1,024x768 pixels, can be purchased in pink or black, and has an impressive design that makes it smaller than the Amazon Kindle Paperwhite even though they both have the same size screen. It feels great in your hands, and it's also packing a nicely backlit screen for your nighttime reading. It's easy to turn on the light with the physical light button, and the light is perfect for reading in dark or dimly-lit environments.
A nice touch with the Aura is the way it handles page-turns. If you've ever used an e-ink device before, you're probably familiar with the ghosting that you see when you turn a page. The screen has to refresh, and you get some artifacts throughout the screen when that happens. The Kobo has all but eliminated this, and it makes for a much nicer reading experience than many of the other readers we've used.
The other big bonus here is that the Aura uses a capacitive screen instead of an infrared screen. How does it work? Check it out:

Does that look confusing? Well, here's the simple answer: infrared uses light signals that you interrupt with your finger, and capacitive senses your finger's location based on electricity. Capacitive is much better, and the Kobo has it. That means you'll have a more accurate experience and you won't need to have a big display edge that shoots out beams of invisible light. Great, right?
Now that we're talking about techy stuff, the Kobo packs a decent punch for an eReader. The Aura is powered by a Freescale i.MX507 1GHz processor and comes with 4GB of internal storage as well as a microSD slot for expansion. The card slot is something that most readers don't have, and it really is nice to be able to throw in a 32GB card and your entire book collection. 30,000 books? No problem. Along the bottom, there's a micro USB port for charging and syncing with your computer, and the Aura has Wi-Fi built in for syncing and accessing the Kobo store as well. Although, I turn off the Wi-Fi most of the time so that I can stay on pace with the rated life of more than two months of use before the battery needs charged.
Now that we've mentioned the Kobo store, we feel the need to address the only issue we have with the Aura. If you're tied into the Amazon or Barnes and Noble ecosystem, it may be a pain to start working in a whole new system like the Kobo store. Personally, we have a giant collection of ePub files on our computer and the Kobo handled them all properly. We didn't miss the integration, but it's just something to think about if you're a huge fan of the Amazon store. Plus, any eBook store that uses the Adobe DRM format will work perfectly fine with the Kobo.

Pros and Cons

PROS: It's light, sexy, has a built-in light, uses a great screen with capacitive touch, has an expansion slot for memory, the battery lasts an extremely long time, and you can even play chess on it.
CONS: You can't use Amazon's store to purchase books.

If you want a great design, a capacitive screen, and a responsive unit the Aura is a great choice. It's portable and can handle all of the ePub books you've stored on your computer over the years. Plus, you're not tied into the Amazon ecosystem and you'll have the best looking eReader available today.
BONUS: Simply like, share, or comment on this article, and you're entered into a drawing for your very own Aura courtesy of Kobo.
Purchase it here: Amazon