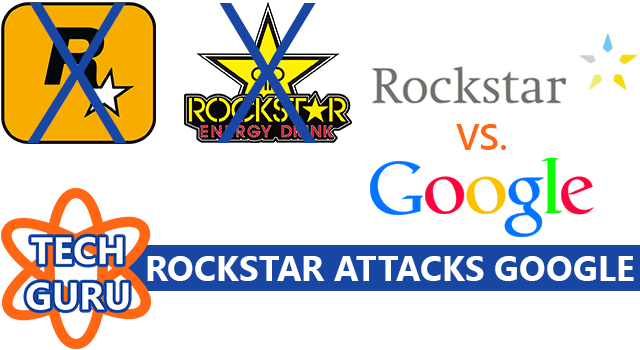 When you hear the company Rockstar, you probably associate it with 1 of 2 things:
The company behind Grand Theft Auto (Rockstar Games)
The energy drink company (Rockstar Energy)
The minority of you would associate Rockstar with Apple, Microsoft, Blackberry, Sony, 6,000 mobile patents, and $4.5 billion dollars.
Wait, what?
Back in 2011 a Canadian telecommunications company by the name of Nortel went bankrupt. They had invested heavily in Blackberry and put all their money on the Montreal Expos to win the World Series in 2010. Both terrible decisions for obvious reasons. When you declare bankruptcy, "the man" makes you sell your valuable assets. In Nortel's case, their valuable assets were 6,000 mobile technology patents, a 1993 Ford Tempo, and a 1989 Upper Deck Ken Griffey Jr. rookie card.
The Tempo and Ken Griffey Jr. card sold quickly for $350 and $50 respectively The 6,000 patents sold for just a little bit more.
The patents were originally valued at around $700 - $900 million. The bidding quickly got out of hand and, next thing you knew, it was over $1 billion dollars. At this point, Sony and Blackberry dropped out. The main players left were Google, Apple, and Microsoft.
Once the bidding reached $3 billion, we're pretty sure Apple, Microsoft, Blackberry, and Sony started a Facebook chat and began talking shop. If they did, it probably looked something like this: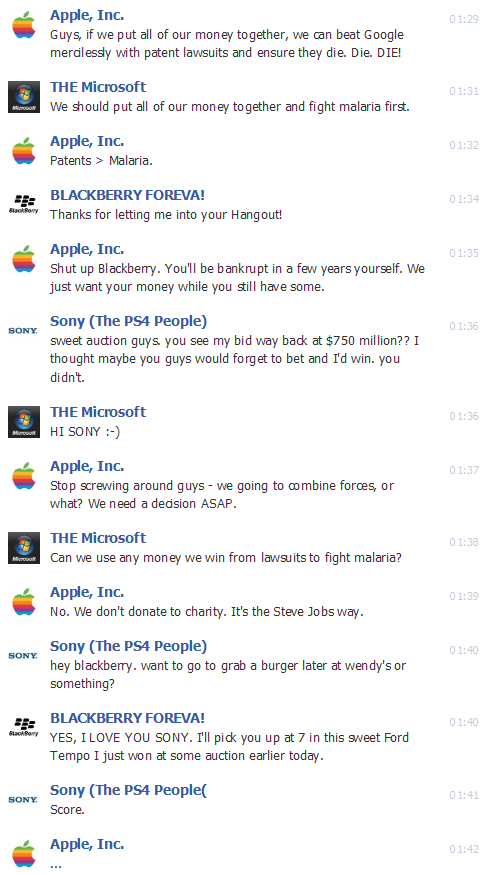 We have no way to know for sure if that's how the conversation actually went, but the end result was these companies forming one giant entity, Rockstar Consortium.
Google was bidding strong for the patents all the way until it hit $4.5 billion. At this point, they were defeated and that was officially the only time in the last 5 years Blackberry could say they were a part of anything successful.
So what does this mean? This means all of those companies who formed this Rockstar Consortium are exempt from infringing on these Nortel patents. Google on the other hand, is going to get served many, many lawsuits. The first of which was filed last week against Google and pretty much everybody else making Android phones and tablets.
There were eight lawsuits altogether, and the main one hit Google right where it hurts; in their advertising and search. That's Google's core business, so if Rockstar manages to pull out a win, it could be big trouble in little Mountain View. In addition to Google, the defendants in the other cases are Samsung, LG Electronics, HTC, Huawei, Asustek, Pantech and ZTE Corp. Those lawsuits go after the Android phones and their makers.
The main objective of the Rockstar you never heard about is to take down Google by any means possible. This is only the beginning.
You can check out the first big court document from the case below, if you're in to that sort of thing.
Sources: Tom's Hardware, AllThingsD, extremetech, eBay, KBB