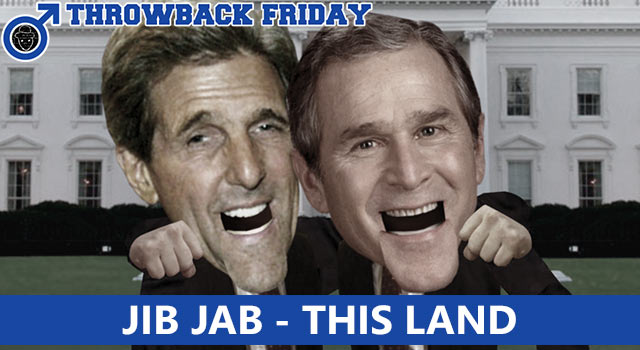 Oh, Adobe Flash. You're still around, but not quite as much as you used to be in your heyday of video creation. Way back in the mid 2000's, Flash was used for everything from You Don't Know Jack games to websites like HomeStarRunner.com. And you know what? We miss you. Well, mostly Home Star Runner, but also the creative videos that were made completely out of Flash - like JibJab's This Land.
The Background
JibJab is a digital studio company from Venice, California. They were founded in 1999, but didn't hit it big until the 2004 US presidential election when they released the video for "This Land." The video set a new bar for what online political satire should look like. It was set to the tune of Woody Guthrie's "This Land is Your Land" and showcased George Bush and John Kerry as big-headed cartoon versions of themselves.
In the video, the two candidates for president sing about why they should be elected and, in a nice bit of work by JibJab, there is no clear winner. We love when people make candidates on both sides look like buffoons, and JibJab accomplished this. Nice work!
JibJab got a ton of press from the video and the brothers who created the parody were featured on Fox News, the NBC Nightly News, and ABC World News Tonight as well as being guests on The Tonight Show with Jay Leno. In December of 2004 they were even named the "People of the Year" by Peter Jennings. On top of that, the video was viewed on every continent in the world, and even on the International Space Station. Impressive.
Where Are They Now?
JibJab is still operating, they have made several more fun videos, and have expanded their website as well. Now, they don't just produce and distribute original content, but they've also launched into the world of eCards. And they've partnered up with some big names as well. Have you ever used Office Max's Elf Yourself? That's JibJab.
Not a bad return for one well-done video. A few weeks of work took a small company and transformed it into an online media sensation.
Check out the video below to see how it all started.