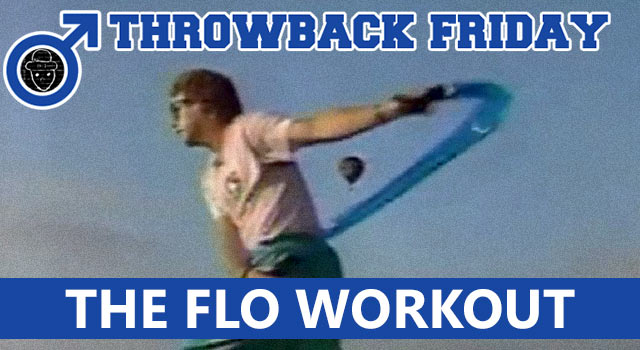 What is The Flo? Obvious jokes aside, it was a revolutionary workout program that took the world by storm in the early 1990's. People everywhere were reaching for their magical water-filled plastic bag to help transform themselves into marvels of modern athleticism. The Flo wasn't just a game-changing piece of exercise equipment, it was a way to turn your sad and boring life into something amazing.
Or it was a failed excercise program that would have been mocked like the Prancercise lady if it had been created in the era of YouTube. Either way, it's still living on thanks to the venerable video sharing service.
We found a newspaper article from The Spokesman-Review in Spokesman, WA that talks about "The Flo" in a positive light:
"The object is to look for a more natural way of movement," said Blome. "The Flo bag projects you into a circular plane of motion then has a tendency to involve more muscle groups than with a mechanical pattern."

The program has been refined to nine basic movements. But as instructors are trained, new ideas emerge. Known formally as the Flo Motion Awareness System, the technique is being offered as an alternative to aerobics at fitness centers.
We're guessing it was a slow news day in Spokesman (kind of like here at Bro Council).
Check out the video below. While you watch, we hope you will learn a lot about The Flo, and also, about yourself.