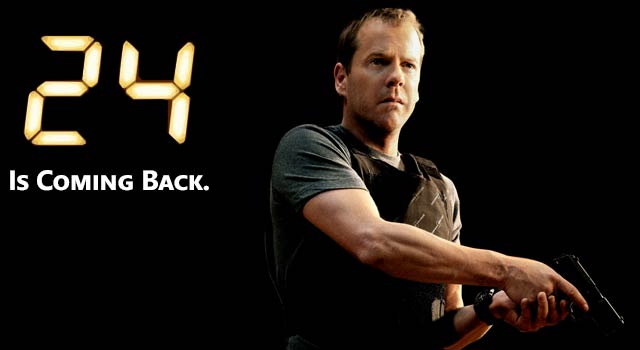 What a great day for TV news, first we get the trailer for Season 4 of Arrested Development, and now we find out that Jack Bauer is coming back to Fox in a new 12-episode limited series re-launch of 24 next May. Good work Fox, this helps make up for your blunder of cancelling Arrested Development in the first place.
Kiefer Sutherland will be reprising his role as the torture-friendly counter-terrorism agent according to a presentation to advertisers that Fox announced today. The series will be called 24: Live Another Day, and former show-runner Howard Gordon is on board to produce.
The show kicks off Fox's new "event series" franchise which focuses on signing top Hollywood names for shorter time commitments. Fox has other event series' in the works including Blood Brothers from Band of Brothers' Bruce C. McKenna, a Shogun remake from Michael De Luca and Nigel Williams, and Wayward Pines with Matt Dillon set to star in a drama from M. Night Shyamalan.
Fox honcho Kevin Reilly said that a "light bulb went off" for Gordon when they were working on a 24 movie when they realized they couldn't compress the show into a two hour time frame. Of course, 12 hours is less than 24 but we'll still take it.