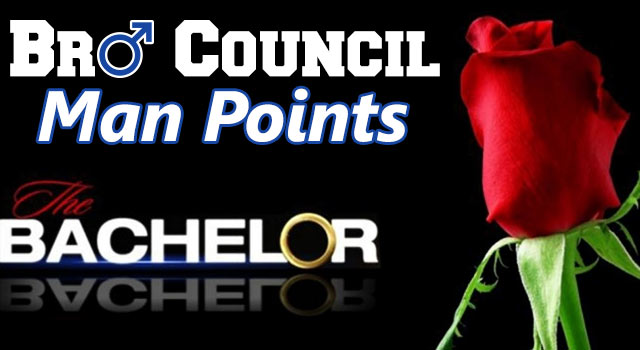 The Bachelor returned to ABC this week, and one source says the show was the number two rated program for adults ages 18-49. They must have been watching my house, because as a 26-year-old man this was on my TV on Monday night with my wife (my choice, not hers).
Last year, I wrote about how The Bachelorette is one of the most underrated bro shows out there, filled with enjoyable tidbits of men interacting and trying to woo one fortunate lady. Sean, who was sent home in the Final 3, is the new Bachelor - and this will be the first in a series of columns commenting on this show from a man's point of view.
Here's what we learned last season about Sean from the "hometown" episode:
Bachelor #4: Sean
Hometown: Dallas, Texas
Potential Man Points Activities: Bull Riding, Eating Steak
His Choice: Brought 2 rather large dogs (+2), followed it up by holding the flowers that Emily picked in a meadow – real men carry flowers (+1)
Time With Family: Played a joke that he lived at home with parents in messy room (-1); Rocked the Chuck Taylors, then showed them off as he ran after the car as Emily left (+2)
Net: +4
When digging deeper, we learn that he works in the insurance field and played college football. I'd give insurance gender neutral and football a man point. At some point this season, it would be great to see him break down a 4-3 defensive scheme. Maybe he can do it on a helicopter ride (but more on that later).
Some highlights from this season's premiere:
The opening montage shows Sean driving in a Jeep to the house that he'll be staying at when shooting on location in Los Angeles. The first thing he does when he gets there after the long drive from the airport? He got his jog on, got his lift on, and then got his jog on again. After that, a cool down, right? Wrong. Non-harnessed rock climbing. #Epic
Sean sits down with a fellow suitor from Emily's season and gets real with him about how heartbreak was difficult. Not comfortable to watch and probably an audition for Arie's future season, but manning up is manning up.
I'm not certain, but there looks to have been at least four flannel appearances, one set of hiking boots, and several trips to mountain range locations over the course of the season.
Sean wore what looks like a skinny tie. Maybe that's a matter of preference, but any time you can almost see the stitching lining the button flaps on shirt, the tie is too thin to be worn with a suit. On second glance, the tie covers the stitching, so it's legit in my book. Plus the Chuck Taylors made several appearances, so it's hard to crush him for this.
Rather than drag out a rose ceremony, Sean takes the bull by the horns and starts giving out more roses than just the traditional first impression rose throughout the cocktail party - like a boss.
As underrated as this show is for the male gender, I do feel that there are a few disclaimers and points that have to be made, but then we can get on to just watching and enjoying:
The host, Chris Harrison, looks like a cross between Uncle Joey from Full House and Ryan Seacrest in 10 years.
Whether it's The Bachelor or The Bachelorette, there could be a total of 10 solid minutes each season of the camera on people that are just gazing off into the distance. Just like the unofficial television law says that when a woman is wearing red late in a season it indicates pregnancy is coming, in Bachelor/Bachelorette law, this is the producers' way of letting us know that they are thinking.
The dates that the show plans are absurd. While dinner on a yacht at sunset makes for pretty TV, don't expect to see an at all realistic situation and then be surprised when the ladies say they can see this person in "everyday life". I know the producers have to be feeding them lines, but we just have to accept that.
There will be at least several helicopter rides, a ton of panoramic camera shots, and at least one period where the main person admits questions as to whether or not this will work for them.
For a season premiere, I'd say it was a good start. But maybe I'm just biased by the Chuck Taylors.