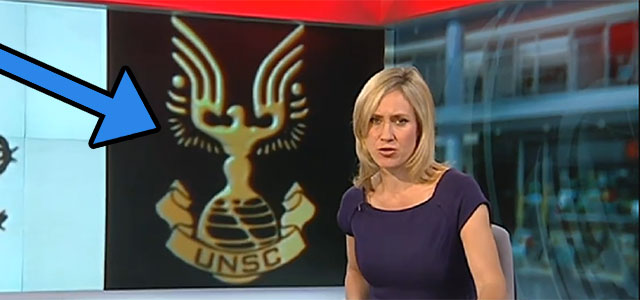 Apparently, with the release of Halo 4 this fall combined with the previous victories by Master Chief over the Covenant, the video game heroes have caught the eye of the United Nations. Well, at least according to the BBC who recently posted a picture of the Halo Nations Space Command (UNSC for short) logo instead of the United Nations Security Council (UNSC for short) logo in a recent story. Funny, the apology issued sounds a LOT like a certain news station in Pittsburgh:
"Unfortunately an incorrect logo was used during a segment on last week's News at One bulletin and we apologize to viewers for the mistake," said a BBC spokesperson. "BBC News makes every effort to ensure the accuracy of all images broadcast, however very occasionally mistakes do happen."
Note to the BBC: Google images is not your friend.
Check out the video below: