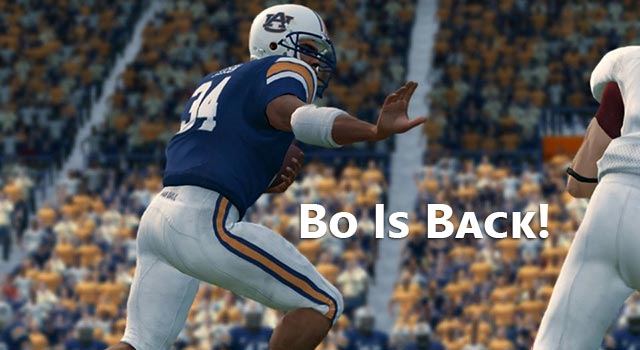 Finally, Bo Jackson has come back to video games!
It's almost that time again for all of you college football fans, as teams will soon be reporting for practice. And each summer, EA Sports give us our first taste of the new season in July, and this year is no exception. However, there is one wrinkle to the 2014 version of their popular NCAA Football franchise. EA needed something new as the game has felt basically the same each year. Sure, they added in recruiting, then dynasty mode, and create a player; but every year it felt rehashed. This year though, they have added in one very enticing option.
The game launches on July 9, and if you create an "Ultimate Team" in the first week of release, you will get a card to use a freshman RB from Auburn with a rating of 85. That's right, the one and only Bo Jackson. Now, if you manage to get the freshman Bo Card with an 85 rating you only get to use him for a 25 game run. As a bonus, some lucky gamers will get an "Epic Edition" card with Heisman-edition Bo. That card gets you Bo with a rating of 99 and 45 games.
It's a limited run, so use him wisely gamers. This could be you: