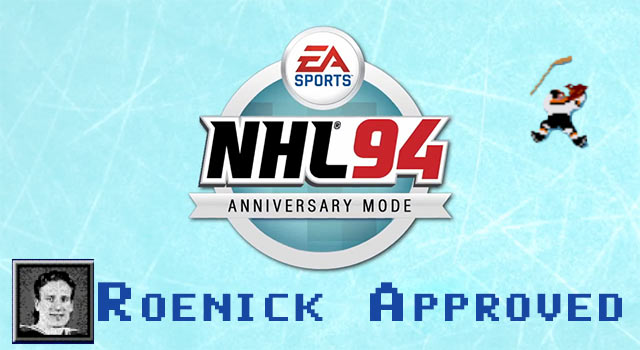 Get ready sports fans; EA Sports is bringing back the blue ice, star icon, and even some of the old style buttons for NHL 94 Anniversary Mode! It's all part of the new NHL 14 game, and we're beyond excited.
I have been playing video game hockey since the original Nintendo days where you had three players; the fat guy, the average guy, and the skinny guy. Then came Blades of Steel and I can still remember opening it on Christmas morning and screaming with delight (Editor's Note: Pat was 34 years old that Christmas). Of course, over time the game systems improved. The Sega Genesis came out, and that system brought us the best sports video game of all time, NHL 94.
The original game brought the one-timer into the lexicon of ice hockey videogames, as well as board checks, penalty shots, and the ability to control your goaltender. Those things are back for the "vintage" version of NHL 94, but it will be styled with updated graphics and it's designed for some crazy online-or-off gameplay against your friends since there are no offsides or penalties called. Let's be honest, everyone turned those things off in the game settings as soon as they started playing the game.
Also included in the game? Mario Lemieux, Wayne Gretzky, and the immortal Jeremy Roenick. Unfortunately though, there won't be any blood on the ice this time around. If we had to make a hastag for that omission it would be #StupidParentGroups.
NHL 14 will release on September 10, 2013, and you can pre-order the game here for Xbox 360 or Playstation 4.
And yes, the organ music is back.