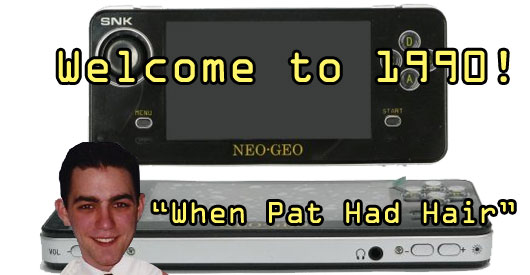 Yep, the Neo-Geo is still around apparently. SNK, the company that made the original $650 game console in 1990, has licensed the system as a portable console for a release date to be determined. That means, it may never get released...but at least we have this great mock-up of the iPhone system to show for it.
If you aren't familiar with the Neo-Geo it was launched to replicate the arcade machines at the time which had a lot more graphical prowess than the home consoles of the time. The only problem that it was ridiculously expensive for the console, and some of the games would sell for as much as $300. There were other systems put out by SNK as well, but I won't go into them here. That's what Wikipedia is for.
Apparently there will be 20 classic arcade games loaded on 2GB of internal memory. The "new" Neo-Geo will also have a 4.3-inch screen, an SD card slot, and a cool digital control stick. Now, this hasn't been confirmed by SNK themselves, but let's be serious...you weren't going to buy it anyway were you? If you are interested, here is the leaked list of games for the new system. In no particular order:
Metal Slug - Top Player's Golf - World Heroes - King of Monsters - Baseball Stars Professional - King of Fighters '94 - Ultimate 11 - Sengoku - Nam-1975 - Mutation Nation - Last Resort - Frenzy - Cyber Lip - Fatal Fury Special - Art of Fighting - Super Sidekicks - League Bowling - Magical Lord - Samurai Shodown - Fatal Fury
Get ready for 1990 all over again. We know Pat is excited.
[Source - TheVerge]