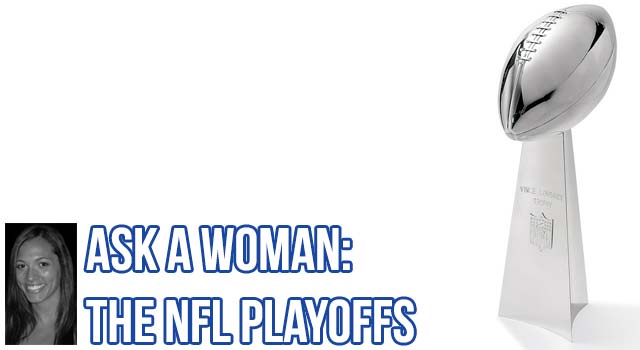 Hi Rachel,
Are you a football fan? If so, who are you rooting for in the playoffs...if not, why not?
Thanks!
Eric
---
Dear Eric,
I couldn't care less about cheering for a team in the NFL Playoffs. Hey, I can't be perfect, right?
During my senior year of high school, my classmates and I brought home 5 Athletic State Championships. These were in Basketball, Dance Team, Softball, Lacrosse, and Track. I'm pretty sure the Soccer team played in the championship game that year, too, being the defending champions from the previous season and all.
A diverse range of talents ruled the athletic landscape at my dear alma mater, and guess what? No one even thought about football.
The University of Vermont's football team has been undefeated since 1974 - the year they got rid of their varsity football program. Growing up, football wasn't really engrained into the Northern Vermont culture like it is in some parts of the US. My high school didn't even have a football team until I moved away for college.
Oh, college…that other big opportunity in life to gain an appreciation for football. Except, I went to Grove City College, and all the state championship winning athletes from my high school, having never played football, may have fielded a more competitive team. The boys had a solid 3 - 7 record for three consecutive seasons! Senior year was a big deal…when they finally squeaked out an extra win: 4-6, baby!
With that said, I don't dislike football, per say. I've attended games at Pitt and Virginia Tech, a few high school games through a mentoring program I worked with after college, and plenty of pick-up games with my current students. I understand the basic rules, positions, and aims of the game…I just feel no emotional allegiance to any team over another. I fairly regularly meet up with friends for cheap beer, 25 cent wings, and Sunday football; although, full disclosure, I also usually engage my friends in a card game or bring some knitting with me. AND! I LOVE the Superbowl! Correction, I LOVE Superbowl parties! I love baking football themed treats, creating amazing finger foods, and hanging out with awesome people. The commercials are sometimes ok, too.
In summary, I'm rooting for myself in the NFL playoffs…to have an awesome time. I hope you have an awesome time, too.
Rachel
Be sure to ask your own question to our panel of women here!