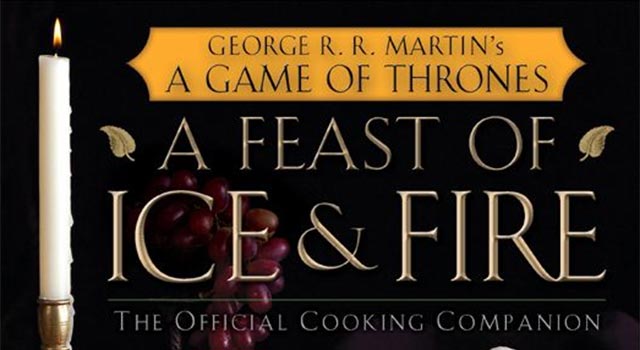 Amazon.com just put up a pre-order for A Feast of Ice and Fire: The Official Game of Thrones Companion Cookbook by Chelsea Monroe-Cassel and Sariann Lehrer with a foreward by series creator George R.R. Martinthat contains recipes that have been "refined for modern cooking techniques, but adventurous eaters can also attempt the authentic medieval meals that inspired them." What does that mean? You can try recipes like these:
The Wall: Rack of Lamb and Herbs; Pork Pie; Mutton in Onion-Ale Broth; Mulled Wine; Pease Porridge
The North: Beef and Bacon Pie; Honeyed Chicken; Aurochs with Roasted Leeks; Baked Apples
The South: Cream Swans; Trout Wrapped in Bacon; Stewed Rabbit; Sister's Stew; Blueberry Tarts
King's Landing: Lemon Cakes; Quails Drowned in Butter; Almond Crusted Trout; Bowls of Brown; Iced Milk with Honey
Dorne: Stuffed Grape Leaves; Duck with Lemons; Chickpea Paste
Across the Narrow Sea: Biscuits and Bacon; Tyroshi Honeyfingers; Wintercakes; Honey-Spiced Locusts
Mutton in Onion-Ale Broth? Yes, please. And really, who doesn't love beef and bacon? Put it in a pie and I can only begin to imagine the glory of that meal.
This is the "official" cookbook, but for some odd reason they decided to publish it two months after the season premiere of the show. So if you're really in a hurry, you can also pick up the book with the longest title I've ever heard; The Unofficial Game of Thrones Cookbook: From Direwolf Ale to Auroch Stew - More Than 150 Recipes from Westeros and Beyond by Alan Kistler. You can save a few bucks on that one, but there's no bacon listed in their descriptions. But they do have "Wilding Grilled Pork Chops with Stir-Grilled Apples—the meal of choice at Craster's Keep" which also sounds like a great meal for a first date.
Let us know if you decide to cook some of these meals. We'll probably feature your work on the site. Oh, and make sure you check out Pat's review of the Blu-Ray set for Season One here.
Pick up the official cookbook here at Amazon.com, and the unofficial book here.
[Source - San Jose Mercury News]