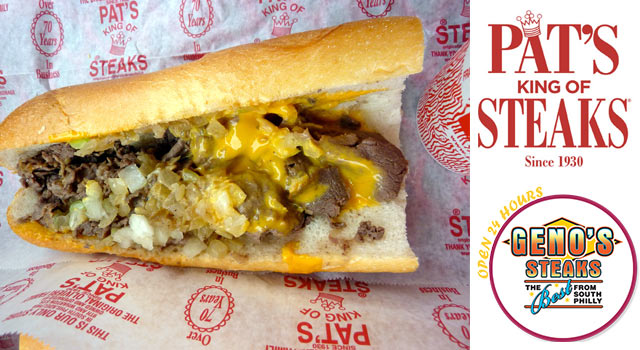 There always seems to be a lot of debate in the cheesesteak world; whiz vs. provolone is always a classic argument, and Geno's vs. Pat's is the classic debate if you live on the East Coast. These two icons of Philadelphia have set up shop right across the street from each other, and tourists love them.
Philly locals will tell you all about Tony Luke's and Jim's Steaks, but as a non-Philadelphia native that has tried them all, I still gravitate towards Geno's and Pat's. They're great cheesesteaks, and you can just walk across the street for a post-dinner cheesesteak after you finish your first cheesesteak. Perfect, right?
Once, when I had a friend visiting me from Philadelphia, I had her grab a cheesesteak before she got on the plane, and I had a mostly hot Pat's cheesesteak delivered to me an hour after it was prepared. Now I'm not dating her anymore, so how do I get my Philly cheesesteak fix? Thankfully, a site called Goldbely is here to help.
The website offers up local delicacies from around the US that are shipped to you overnight, and they just offered up a "Battlebox" of 4 cheesesteaks for sale; two from Geno's and two from Pat's, for $79 shipped anywhere in the US overnight. It's a limited run of 250, and the package includes:
2 authentic, handmade cheeseteaks from Geno's Steaks – "Steak Whiz Wit" Style
2 authentic handmade cheesesteaks from Pat's King of Steaks – "Steak Whiz Wit" Style
Each sandwich is nearly a foot long and arrives fully prepared and served "steak whiz wit" which, for any rookies out there, is a steak sandwich topped with only cheese whiz and diced fried onions.
Awesome.
It's a limited run, so if they run out of the Pat's and Geno's Battlebox, you can try another Philly favorite from Campo's Deli as well. In all honesty though, the battle really comes down to Pat's vs. Geno's for the tourists.
Enjoy your cheesesteaks.
Source: Pat's and Geno's Battlebox