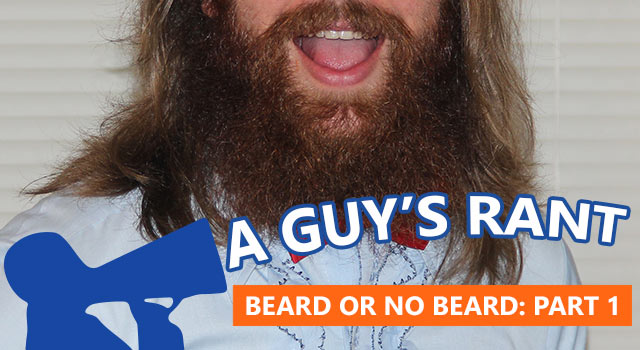 "To Beard, or not to Beard, that is the question." One of man's biggest queries in life. But honestly, is it really that difficult of a decision? The only reason why it might be a complicated choice is because a "significant other" questions the beard. But if you question the beard, the beard will answer.
So let's lay all questions and razors to rest. To realize the answer to all of life's questions is to "Grow a Beard." Here's your first list, in a continuing series of lists, on why you should already have a beard.
1. Having a Beard separates the men from the boys. "Man Up…Beard Up." Grow a Beard.
2. I need to save money, but how? Answer = Beard. Don't keep buying blades and electric razors. It's not about being lazy, it's about being a Man. Grow a Beard.
3. If you're ugly, then Grow a Beard. "It's man's makeup." One moment you are a site for sore eyes, then boom! The next moment you are ruggedly handsome. Grow a Beard

(Yes, that's Kip)
4. You want to get rid of your quadruple chin/Frog neck, but you don't desire to go on a diet. Grow a Beard, it hides it.
5. Oh you pride yourself on living an organic lifestyle, eh? Well then, stay true to the lifestyle. Grow a Beard.
6. Still having issues with acne? Problem solved. Grow a Beard, it hides everything!
7. In times when your face needs a hug, Grow a Beard.
8. It's so easy even a Chia Pet can grow one. Cha-Cha-Chia, Grow a Beard.

9. Don't wear a preppy expensive scarf in the winter to stay warm. There's no need when you can stay warm the all natural way. Grow a Beard.
Like the hairs on your face, there are a plethora of reasons why you should grow a beard, but why spoil it in just one article? Beards deserve more glory and time. So today, I will leave you with this key reason. It reminds us of how dumb it was to shave in the first place.
10. You will never ever have to put on that horrific, burning aftershave again.

Grow a Beard!