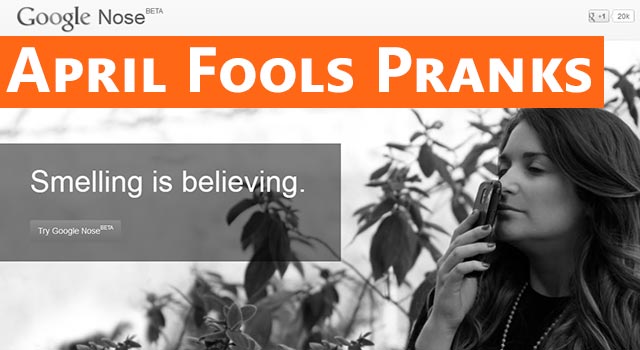 Each year, tech giants from across the industry flex their muscles on one collective day to show how creative and powerful they are: April Fools Day.
That's right, each year a ton of manpower, resources, and energy are put into creating great April Fools Day pranks for the entire internet to enjoy. Why? Because it's great publicity - and it's a lot of fun.
Check out the list of the best April Fools Day pranks of 2013 below.
THE LIST:

Google Treasure Maps
Are you ready to go on a treasure hunt? Then check out Google Treasure Maps. According to the big G, "archeological analysis has confirmed that our Google Maps Street View team has indeed found one of history's long lost relics: a treasure map belonging to the infamous pirate, William 'Captain' Kidd."
Now you can decipher the clues that Google provides you to figure out where Captain Kidd buried his treasure. Good luck!
SOURCE: Google Treasure Maps

---

Twitter (Twttr)
Are you used to using vowels when you Tweet? Well, you better get used to paying a monthly fee then as Twitter has just made a big announcement: "Starting today, we are shifting to a two-tiered service: Everyone can use our basic service, Twttr, but you only get consonants. For five dollars a month, you can use our premium "Twitter" service which also includes vowels."
Don't worry, Twitter has provided a translation service for those of you who don't want to pay the extra $5 fee, and you can still use Twttr - just not Twitter.
SOURCE: Twitter
---

Google Nose
You know all of those Google Street View cars that ride around and take pictures of you and your town? They have also tracked millions of smells as Google prepared to launch their Google Nose search engine. That's right, now you can use your phone to smell what you're looking at using the "sharpest olfactory experience available."
Check out the official announcement below, and keep on the lookout for any of your friends sniffing their phone today so you can point and laugh at them.
SOURCE: Google Nose
---

Gmail Blue
The next big upgrade to Windows 8 is set to release later this year, and is codenamed "Windows Blue." Is it a coincidence that Gmail is launching a major redesign today with Gmail Blue? We think not.
So what is Gmail Blue? It's fast, it's beautiful, it's powerful...and it's blue. It's the exact same Gmail but now with blue buttons, text, and links! Exciting stuff from Google.
Stay on the lookout in the video for a special group of blue men giving their thoughts on the upgrade (Hint: it's the Blue Man Group).
SOURCE: Gmail Blog
---

Nokia Microwave
Are you looking for the microwave of the future? Nokia has taken time away from increasing Windows Phone's market share to bring you the Nokia 5AM-TH1N6 Constellation. It's a microwave that comes with the latest eye-tracking technology, which stops the food from rotating when you look at it, and it automatically adjusts the temperature depending on how hungry you look.
SOURCE: Nokia Blog
---

YouTube
It's a disappointing day for YouTubers around the world, as the popular video sharing service is shutting down. That's right, after 8 years of entries YouTube is about to announce the best video of all-time. Then they will close.
Don't worry though, you're still in the running as long as you submit your video by tonight. You can even win an MP3 player and a $500 cash prize!
Check out the video featuring some of the nominees below.
SOURCE: YouTube
---

White House - Obama Resigns

Even the White House is getting in on the April Fools Day game, as they announced the resignation of President Barack Obama today.
Check out the full story below.
SOURCE: White House - Obama Resigning