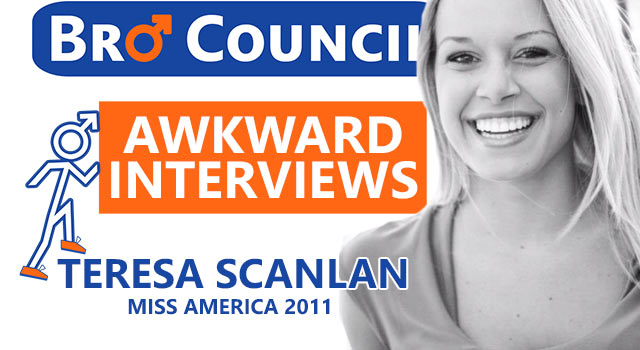 Recently, we sat down with Former Miss America Teresa Scanlan for our first official Bro Council Awkward Interview. Why is it awkward? Because Ray is awkward, and he's asking the questions.
A little about Teresa:
Was crowned Miss America 2011
She was the youngest woman to wear the crown in over 70 years
The first Miss Nebraska to become Miss America
Attends Patrick Henry College in Purcellville, Virginia and plans on majoring in government
Is hoping to become a judge and eventually be involved in the political arena
Enjoys making clothes out of duct tape (we ask about that in the interview)
Teresa is in the process of recording an album with composer and pianist Calvin Jones
You can follow Teresa on Twitter @TeresaScanlan. If you want to hear the full 28 minute interview, you can listen to it on our podcast or you can just check out the abridged video version below.