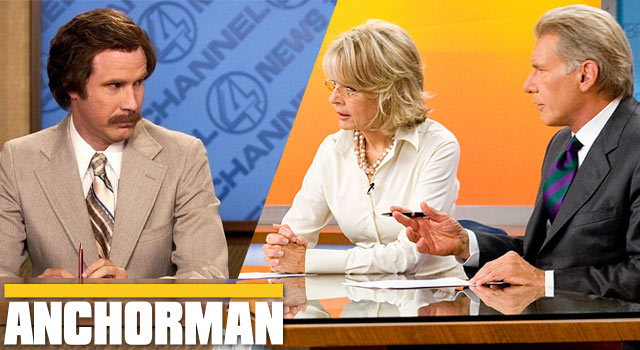 Harrison Ford is on a roll! After the recent re-release of Raiders of the Lost Ark came news that he would be reprising his role in J.J. Abrams' Star Wars: Episode VII. Now, there is some more big news to announce about Ford: he has officially joined the cast of Adam McKay's Anchorman: The Legend Continues.
Sweet beard of Zeus.
Ford is expected to play the character of a respected new anchorman, and the cast is already loaded with the return of Will Ferrell, Steve Carell, Paul Rudd, Christina Applegate, and David Koechner. Plus, they were able to line up some new anchor blood with Kristen Wiig, James Marsden, and Meagan Good coming aboard. This movie should not be anything less than epic.
Anchorman: The Legend Continues is set to begin production in Atlanta, Georgia soon and you can look for it to hit theaters with a release date of December 20th.
Will Ferrell has already grown out the 'stache, so we know that production on the sequel is on target.