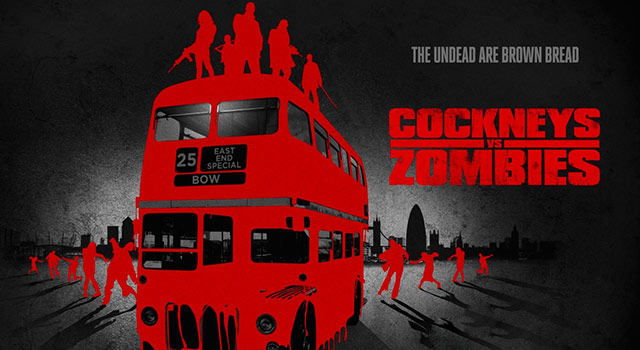 So you're having some zombie withdrawal and season 4 of the Walking Dead is still a couple of months away? Well, fear no more; we found a replacement for you. No, it's not the weekly Zombieland series that we talked about since Amazon cancelled that, and unfortunately World War Z is still 4 weeks from a Blu-Ray release. What we found may not be a top-flight movie, but it sure will suffice.
Cockneys Vs. Zombies is yet another British film on the zombie apocalypse. I really love British entertainment and hope to visit there one day but, seriously, it seems like every other zombie movie is destroying London these days. This one is no different, and in fact it has a Shaun of the Dead feel to it. For those fans of UK movies like Snatch, you will recognize a couple of faces including Alan Ford, who played the Gangster boss, and plays Ray in this movie. He's a grandpa who is still full of fight and living in a retirement home that is about to be closed and bulldozed to make way for luxury condos. His grandsons form a plan to help save the place with a bank robbery, and when they walk out of the bank they quickly realize that it's a whole new world in front of them.
It won't win any awards, and it's low budget, but it has some laughs and is certainly worth the price of admission (or rental, DVD, or Blu-Ray). Shaun of the Dead and Zombieland fans will enjoy it, but probably not quite as much as the others. But seriously, I laughed out loud a few times, didn't feel as if I had wasted 90 minutes to watch it, and it's probably the best zombie movie about cockneys that you haven't seen yet.
You can stream it now from Amazon, and the DVD, or Blu-Ray will be available September 3rd.