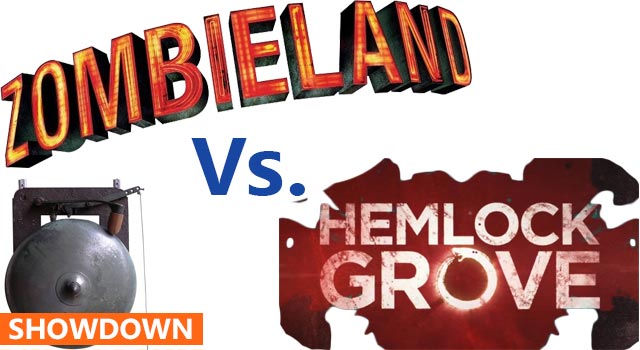 You might remember a few weeks ago we talked about the Netflix original hit show The House of Cards. Well, now Netflix has some competition from a relatively new kid on the block with Amazon diving into the original programming sea. Amazon isn't new to streaming videos since they have run their own Amazon Unbox / Prime Instant Video service since 2006, but they are new to creating an original series.
The next chapter in Amazon Video history happened last week when they launched a new zombie series in the same week that old faithful Netflix launched a new horror series. Amazon premiered the 30-minute comedy spin off of the Hit movie, Zombieland, while Netflix debuted the long awaited Eli Roth directed horror series Hemlock Grove.
How Do The Shows Stack Up?

Zombieland
Who doesn't love zombies? And who doesn't love Bill Murray? While it's not my favorite zombie movie, a title that goes to Shaun of the Dead, I did enjoy Zombieland. The casting was brilliant, and the series takes up with the same basis as the film, the "Rules to Live By." To be honest, I wasn't expecting the show to amount to much. The cast members were relative unknowns, and we just couldn't see how they could take the show any farther then the movie. Well after seeing the premier, we're pleasantly surprised; it was both funny and amusing. It is definitely for the adult crowd as they dropped more F-bombs in 30 minutes than an Eddie Murphy show (you know, his shows back in the 80's when he was actually funny.)
If you're a zombie purest like myself and enjoy your zombies with Big Ten speed and not SEC speed, these are not your zombies. The Zombieland undead are more like World War Z, and 28 Days Later than the ones you'll find in the Walking Dead. But this is a small thing to overlook since it's just a 30 minute show; faster zombies = faster plot development.
Hemlock Grove
Hemlock Grove is based off a novel of the same name released last year. It's the story of two families in a small town in Pennsylvania, one family is fairly well-off but is hiding quite a bit. The manipulating mother is played by Famke Jansen and she lives with her two children, a son and a daughter. So far, I'm not completely sold on this show and we're getting somewhat of a "grown-up Twilight" feel for the show, it does have potential. Plus, the internet is buzzing about Hemlock Grove having the most intense and incredible werewolf transformation scene ever. We'll give Hemlock Grove a few more episodes before we pass complete judgment.
So far though, Zombieland is winning the original series battle.
Amazon Instant Video vs. Netflix

There are pros and cons to both of course. With Amazon you have the choice to rent instant videos and they also have a selection of "free" movies and shows if you have an Amazon Prime subscription. In general, they have a similar movie and TV show list as Netflix. The big drawback to Amazon is that it's limited to a smaller selection of devices (Roku, PC, Mac, etc.) than Netflix. Netflix has done a great job of getting their service integrated into a huge selection of devices so you shouldn't have any problem finding at least one or two media players in your house (Xbox, PS3, your TV) that have Netflix support included.
Netflix is also currently holding the edge so far in original programing quality; Arrested Development returns next month on Netflix, House of Cards is a great show, and Hemlock Grove has promise. For now, our money is with Netflix. But if you shop a lot at Amazon, pick up their Prime subscription and you'll get the free Instant Video service and free two-day shipping. Not bad right?
Both studios have more original programming scheduled, so check back with us often and we'll keep you updated on the internet streaming battle.