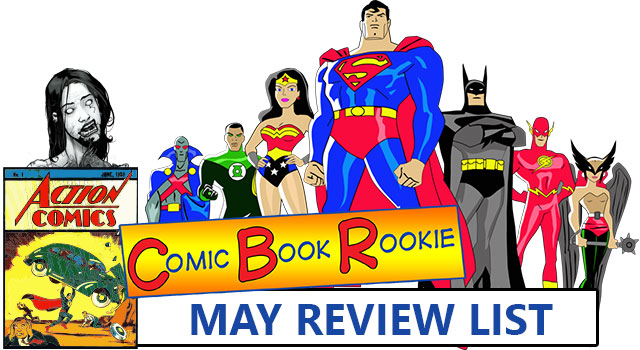 It's time once again for this month's Comic Book Rookie. Taking a look back at May, we have had a couple of Bro Council's favorite titles making the headlines. So forget about your cares, and dive into the world of superheroes, zombies, and knuckleheads.
Let's get started with one of our all-time favorites:

The Walking Dead #127 "A New Beginning" - (SPOILERS AHEAD) The all-out-war is over and all of the settlements are thriving. They have become organized with their rebuilding, and developed ways to redirect Hordes from coming close and overrunning the encampments, but unfortunately this day they ran them right into a group of survivors. We now get introduced to the remaining members of the group all brought into "Alexandria" where Rick offers them a place in the community.
It will be very interesting to see just where Magna, Kelly, Luke, Connie, and Yumiko all fit in, as well as how long they will last. Robert Kirkman has said that the zombies will be coming back in a big way now that the "all-out-war" storyline is over. Also, Carl has taken to confiding in someone at night, so just where will Carl's late-night talks with Negan lead? The only thing I did not like about this issue goes back to Carl again; I know the panels and changes in some character appearances lead us to believe some time has passed since the war, but I just couldn't get used to Carl referring to Andrea as mom.
THE ROOKIE'S VERDICT: Always a good read. Pick it up!

Justice League #31 also hit the shelves this week, and in a continuation of the "Forever Evil" story lines we talked about in previous months, the Justice League is welcomed to the New Watchtower by Lex Luthor? Even though Wonder Woman's lasso confirms that Lex is telling the truth that he only wants to help, the Justice League is very skeptical as to just what his end game is.
This issue had it all; a great lead-in to a new storyline, the sarcastic overtones of Billy Bastion when Lex was trying to get him into the Justice League, as well as the introduction to Jessica Cruz (aka Power Ring). One of the best things about this issue, as well as a few other DC Titles this month, was a sneak peak at the newest power team of Current Justice league writer Geoff Johns as he teams up with Artist John Romita Jr. They are taking over as the creative team behind Superman, and you can check back with us next month for our full reactions to what is, hopefully, the first of a great new run.
THE ROOKIE'S VERDICT: Yup. Buy it.

Our favorite slacker superhero and the gang of Knuckleheads are back! Brian Winkeler told me this was one of his favorite issues, and I must agree. The one-liners and jokes were non-stop. It didn't hurt that they start off with the group trying to film Trevor's powers which turns into what would be would be an epic-fail clip for YouTube if this was real-life. I especially loved the introduction of the crystal's powers to allow Trev to speak to a dog who leads him to a little boy in a well. Of course a Lassie-inspired story arc would be awesome, and when did you ever expect to see that in a comic? They always try to keep you guessing in Knuckleheads. Also, Trev doesn't miss the chance to heckle the kid about his name as well. It finishes up with the group being abducted by aliens in what promises to be a hilarious summer story arc.
THE ROOKIE'S VERDICT: Buy this. Always. Every month. Actually, why haven't you bought it already? We've been telling you this for months.
Check back next month when we talk about the new Superman run, and an 80's film cult-classic that comes to comics when we take a ride on the "pork chop express" with Big Trouble in Little China #1! In the meantime, feel free to check out our past issues here.