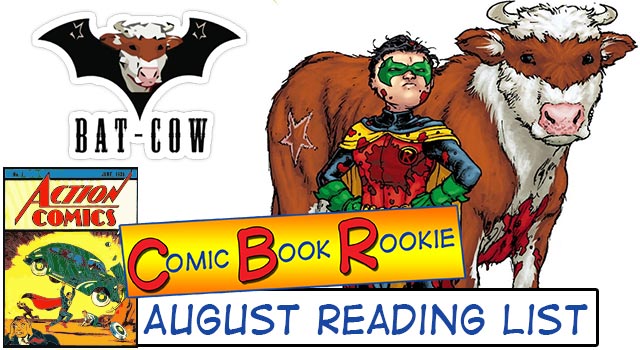 This month in Comic Book Rookie we are back with a few of our favorites and some new ones to keep an eye on. Each month, we bring you a month in review - and the good news is that most of (if not all) of these books are still available at your local shop. Here is the best of August!

I could probably devote an entire article to the Justice League Trinity Wars. It wound down this month, and we finally find out who (or if) anything else made Superman kill. The lines of allegiance have been blurred as always within the Trinity War, and our heroes are once again forced to side with one another when the traitors reveal themselves and just what the box is for. You know...aside from turning everyone who touches it evil. Pandora's box opens a gateway to another world and dimension, setting up the new title next month that encompasses the entire DC universe in "Forever Evil." Also coming soon (early 2014) is the Justice League of Canada. Yes, due to the fall out of the Trinity War the Justice League of America will be relocating. This new issue was released just last week so the next 3 to 4 months of the JLA should prove to be interesting.

Superman Unchained issue 3 finally starts shedding some light on what the government has been hiding from Kal'el! When faced with a confrontation with the army, Superman struggles with a new enemy, Wraith, who is an alien like himself. Deep in the desert home of the new friend (or foe), we see pieces of our history that were developed due to the technology he provided. Why was he hidden by the government while Superman was allowed to exist in public? Did the government have a secret plan the whole time? Does the last line of the issue reveal his true intentions?
Find out in this issue.

So Grant Morrison's run at the series Batman Incorporated ended last month with the titular Inc. being dismantled, but this month DC released a special edition. The new release is a collection of short stories from the files of Batman Inc., and they saved the best for last. Those of you who read the book will remember a tender moment between the Dark Knight and Bat Cow after Damien Wayne met his demise at the hands of his mother's (Talia al Ghul) henchman. Well, Bat Cow has done got his own story now. Don't worry, it won't take you long to read as there is only one piece of dialogue "MOO."
Amazing.

Batman writer Scott Snyder was very active in getting feedback from readers on Twitter before this August release, continuing in the Zero Year story arc. We just wanted to give him some props, as it's always good to see the writers reaching out to fans. As the issue begins, we see Bruce in flash-back mode of that fateful well he fell down when his father eventually came to his rescue. And all the while, he is being un-mercifully beaten and shot by the leader of the Red Hood Gang. Just why has Edward Nigma sent the gang to Wayne manor? What role is (or was) his Uncle playing in this? With Edward leaving Wayne Enterprises, what's his next move? This issue brings the Chris Nolan movies to mind with the fight and fire at Wayne manor, and the flashback sequences as well as his recollection of how and why he chose the "bat." Stay tuned fans, because issue 24 will have to wait until October. More on that to come.

And finally this month, we bring you our first preview. We have talked before about the title "Liberator" from Black Mask, and we will see issue 3 of 4 in the run hit the shelves on September 11. I recently received a Tweet from the writer, Matt Miner, telling me that things were about to get nuts. He was right. If you have not yet had the chance to check out this title here are some cliff notes.
The main heroes of this book are animal activists, who work in the dark of the night to thwart the disgusting underworld of animal cruelty. When we last left off in issue #2, the two main characters had met and decided to join forces. The duo were in the middle of a rescue mission when the police showed up and caught them red handed. Since then the two have been starting to see some differences in her methods and "personal code" if you will. Jeannette is smart and plans things out precisely, while Damon is still showing his penchant for wanton destruction. We start to see Jeanette thinking about whether or not taking on this partner was a good idea, but what she doesn't know is what he is doing in his off time from his night time raids with her. How will she react when she finds out, and what is the new revelation she has discovered? We'll find out in the October finale.
What a lot of people don't realize is that comic books don't have to be about superheroes with special powers. They can be about real heroes in our own world, and ones who stick up for those who don't have voice of their own. This issue not only delivers a great story line but, as with all of them, delivers an educational message at the back about real life struggles in our world. I, for one, will be anxiously waiting for the final chapter in October. I also want to take a moment and thank Liberator writer Matt Miner (@MattMinerXVX on Twitter). First, for another splendid issue and a great cause that he's helping bring forward to readers, and second, for giving us the opportunity to provide you the first "preview." Matt was kind enough to provide me with an advance copy of issue #3 to bring this to you. Issue #3 will be released on 9-11-13, so that gives you plenty of time to grab the first two issues if you haven't already. What are you waiting for? Go order them!
Stay tuned next month as DC titles will be taking a break from their regularly scheduled programming to bring us "Villain's Month," each issue will be dedicated to a different bad guy. Some titles like Batman, Justice league, and JLA will have as many as four titles each. We will also get one of two new titles from Image Comics called Zero that we will review for you, as well as a final lead in to the "All out War" story line to the Walking Dead and their 10th Anniversary.
Thanks for reading, and we'll see you next month! Feel free to check out our past issues here: