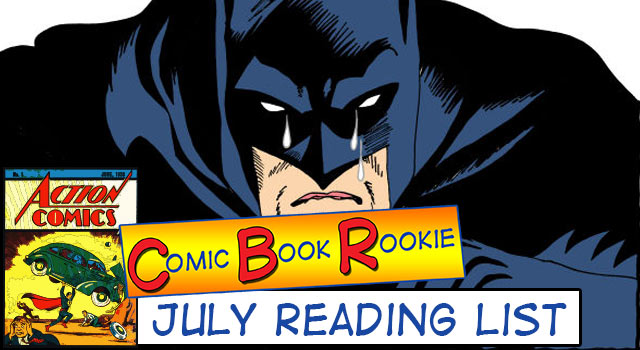 This month in Comic Book Rookie we are back with a few of our favorites and some new ones to keep an eye on. Each month, we bring you a month in review - and the good news is that most of (if not all) of these books are still available at your local shop. Here is the best of July!
Satellite Sam

The first new issue of the month is a premiere from Image called Satellite Sam.
The comic does a great job of introducing the characters and throws you right into a crisis from the start. The story revolves around a TV studio during the 1950's. The station is under duress while doing a live sci-fi TV show, when the star of the show fails to show up and all of his dirty laundry is revealed. The book is a murder mystery that explores the dark life behind a beloved TV star's perfect public image.
The Walking Dead

The Walking Dead continues down the road to all-out war, when Rick returns to the settlement and confronts Negan. The dialogue is so well written that you almost have to cheer a little bit for Negan who is, again, two steps ahead of Rick. Despite it being a relatively unexciting issue, it wasn't bad and is setting up for the ultimate show down.
That showdown seems to be coming soon due to the news that they will be launching a massive new storyline and re-issuing some of the original issues to celebrate the comics 10-year-run which is coming up this October.
Dexter

Marvel started a 5 part mini-series that I would love to continue on. Your favorite serial killer has his own comic now as Dexter launched this month.
To be clear; this is not a continuation of the show. In this series, Dexter's wife Rita is still alive, and yes; I wasn't a big fan of this either. She annoyed me too much on Showtime to keep her around in print. Fans of the show will also recognize the class reunion, only this time you get the back story of Dexter in High school and how he dealt with a bully. What happens when he meets this bully 20 years later? And are all the dead bodies showing up connected to him?
Deadpool Kills Deadpool


Sticking with Marvel, the mini-series Deadpool Kills Deadpool was a very plesant surprise. I have always wanted to like this character but was never a huge Marvel fan, but this is not the same Deadpool that has been in the movies.
What you get is the exact opposite of the movie version's red-clad super-killer who is not that bright; this one is just as proficient with his smart mouth as he is his weapons. Issue #1 of this is no exception, and you not only get to see the star, but also the Deadpool Corps that is traveling multiple universes trying to solve the mystery of who is killing Deadpool. Next up? Another Deadpool mini-series Deadpool Kills the Marvel Universe.
Trinity Wars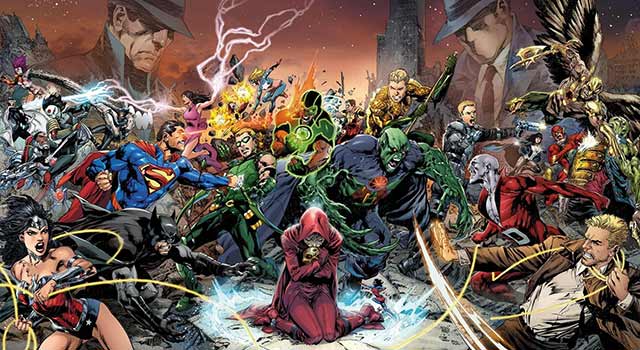 Justice League fans, the time has finally arrived! Trinity Wars. I know what you're thinking "not another cross-over," but yes, comic book fans, DC Comics has another cross-over in the 3 justice Leagues titles.
What happens when a superhero goes too far and does the unthinkable? Who's good? Who's bad? Geoff Johns nails this one, and the art work is amazing as usual. It will span the titles Justice League, Justice League Amercia, Justice League Dark, and there was a new title added to help add more back story called Trinity: Pandoras Box.
I could try to explain this, but I'm afraid I couldn't do it justice. So instead, here is an awesome video with Geoff Johns himself to explain Trinity Wars.
And now for some really sad news...
I have to apologize to you, the readers. When I started this column I intended to write this column after the last releases of the month came out, which was last Wednesday. I had hoped to bring you much more in depth analysis on the spotlight titles, only I wasn't able to do that this time as it's been a rather difficult week here at Bro Council Headquarters.
It is with a heavy heart that tell you that Bro Council has lost a great friend. Gary Helba II was our expert that assisted on all of the Comic Book Rookie articles so far. Gary's life was cut tragically short earlier this week in a car accident that claimed two lives, but affected many more. Gary and I had been talking at work that morning about how excited he was about the upcoming Superman vs. Batman movie that had just been announced days earlier at the San Diego Comic Con. We talked about how he had gone to the convention before, and started making plans to travel there in the summer of 2014 to cover it for Bro Council.
Gary helped fuel my newly found passion for comics in a time when I needed something more than I knew. I had a lot of stress in my life, and was not handling it well. I needed a hobby, and his passion for comics rubbed off on me and gave me the non-destructive outlet I needed. It seems only fitting that I steal a line from a favorite superhero of ours; Batman from the Dark Knight Returns. Gary wasn't the friend I deserved, but the friend I needed.
Gary's outgoing nature and willingness to help others made it easy for an introvert like myself (who hides behind a microphone or keyboard and has trouble connecting with people at first) to become a true friend. We got each other hooked on comics we never would have read otherwise, we talked about college football, and his beloved West Virginia Moutainteers. He had a great sense of humor that helped us get through long and stressful days over the last few months. He was a great man.
Tragically, he leaves behind the love of his life, Whitney, who he married just over a year ago. We can sit here and question why the good ones are taken from us, but what we can not question is those of us who knew him and the impact he had on our lives. We here at Bro Council try to bring some laughs and some knowledge into your lives, make it a better day, give you advice, and maybe in our own way try to help make you a better person. You don't need us for that, you need someone like my friend Gary!
Rest in peace, my brother.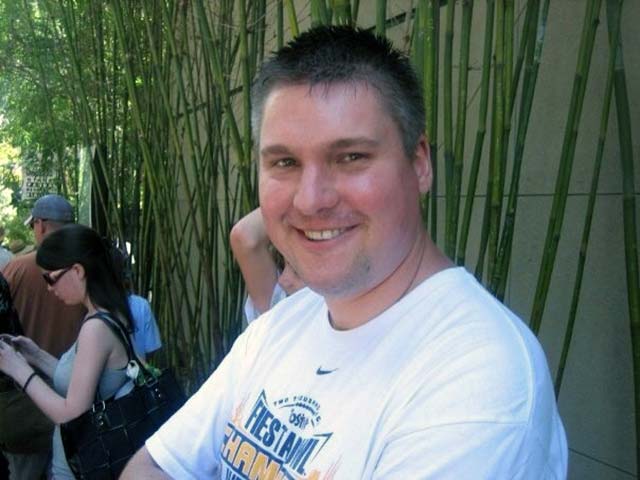 Gary Helba II - January 31, 1971 – July 22, 2013