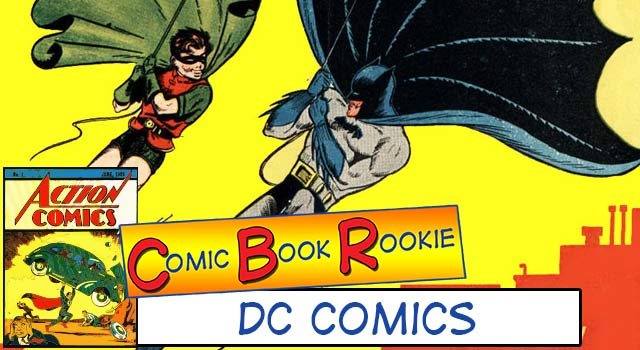 Last time in our Comic Book Rookie series, we talked about Marvel comics. This time we're taking a look at DC Comics, which includes one of Bro Council's favorites; Batman. He's not the only superhero they have, but he's been their saving grace over the years. Although "The Man of Steel" is about to make a splash this Summer, Batman has taken Superman's place in the hearts of many casual fans of comics. At this point, it's hard to believe that DC's sales were so bad in the 1960's that they were cutting back on titles, and Batman was one of those on the chopping blocks. Thankfully, Adam West turned a campy run as the caped crusader into a TV hit that boosted comic sales.
DC had some big screen success in the early 80's through the 90's with Superman and a series of Batman movies, and Wonder Woman even had a TV series that was recently in discussions about being re-imagined. While comics still weren't mainstream, the characters were as part of the Saturday morning cartoons. While the last few years have belonged to Marvel characters, DC went a different direction; they hired some of the best and brightest comic minds available and re-imaged themselves. They launched "the new 52" in 2011 and started from issue #0 to set up all of your favorites, and turned some of the other characters that were not as popular in the past and turned them into some of today's biggest sellers. Ever think you would be a Green Lantern fan? Neither did we after what Ryan Reynolds did to him, but we're now sold. And one of our new absolute favorites is Aquaman. Yes, we said Aquaman.

One of the Main men behind this resurgence is also one of the best writers out there; Geoff Johns. @GeoffJohns has worked on titles like Green Lantern, the impressive series' of Aquaman and Justice League. He and the DC hierarchy also did something else brilliant from a marketing standpoint; cross overs. While reading Aquaman there is a storyline pertaining to his brother and a war with the surface people, although there is enough info to move forward with the continuity, you have to pick up certain issues of the Justice League to get the full story. This was a brilliant marketing move since they have been on my monthly comic book pick up list ever since. Geoff also did a graphic novel titled Batman: Earth One, which was an incredible re-telling of the Batman origins. Trust me, just when you think you have seen all there is in the Batman Mythos, you haven't. You need to read this one, and then buy Vol. 2 when it comes out.
Speaking of the Dark Knight, he has involvement in several titles. The best, in my opinion, is penned by Scott Snyder (@Ssnyder1835) and one of our favorite artists Greg Capullo (@GregCapullo). Scott did a few brilliant things with this title; he started it off with a new villain, the Court of Owls, which he later spun off into its own series worth checking out called Talon. The second was turning the Joker into one of the darkest and most twisted versions we have ever seen since Alan Moore, author of Watchmen and V for Vendetta, wrote The Killing Joke graphic novel. In story arcs called "The Death in the Family" and "Requiem", Snyder deals with the death of a major character in the Batman family that was touched upon across all of the Batman family series' including Batwing, Batman and Robin, Batgirl, and more. (On a side note for Scott and Gregg; they have their own Batman origins story arc coming this June in Batman issue 21. Make sure to check it out.)

You might say "well, I don't like cross-overs and I just want to read the characters I like"; forget that - DC nails this one. It opened me up to numerous new titles I never would have read before, and not just for the intersecting storyline, but for the overarching stories as well. Speaking of crossovers, Scott Snyder created a new hero named Calvin Ross, who battles the Court of Owls, and in the first 8 issues we have seen cameos from Batman and also what appears to be a new story arc with none other than Bane.
If you're a Superman fan, don't worry. There are plenty of titles out there as well, but one that is highly anticipated, Superman Unchained, teams Mr. Snyder's writing with Artist Jim Lee (no relation to Stan). I for one enjoy both of their work, and even though I am not a huge Superman fan, am anxiously awaiting this release in June. Don't feel like getting caught up on all of these story arcs? Don't worry, DC is making it easy for new readers, if you cant find some of the back issues they are putting out volumes that include the entire story arcs.
I reached out to our friend and local comic book expert, Gary Helba, who was kind enough to give us some help with a reading list of comics and graphic novels for new readers of DC Comics:
Watchman
Batman: Year One *
Batman: The Dark Knight Returns *
Batman: The Killing Joke
Batman: The Long Halloween
Batman: A Death in the Family
Kingdom Come
Green Arrow: Quiver
Superman: Red Son
Superman: Man of Steel
Superman: Death of Superman
All Star Superman
Batman:

Arkham

Asylum
Crisis on Infinite Earth
Indemnity Crisis
Green Lantern: Blackest Night
Justice League: A New Frontier
Before Watchmen
Sandman
100 Bullets
I know I mentioned a few of my own earlier so here are of my added recommendations
Justice League

Aquaman

Batman
Green Lantern
Talon
Batman: Earth One graphic novel

Arkham

City
Superman Unchained
* Both written by the great frank miller, you can find animated versions of these as well.
+ is a graphic novel with a lead into the hit game by the same name. It was written by Paul Dini (@Paul_Dini) who was the main writer on both the animated series and the games. You can also thank him for creating one of the best and most loved characters ever in the Batman world; none other than Harley Quinn.