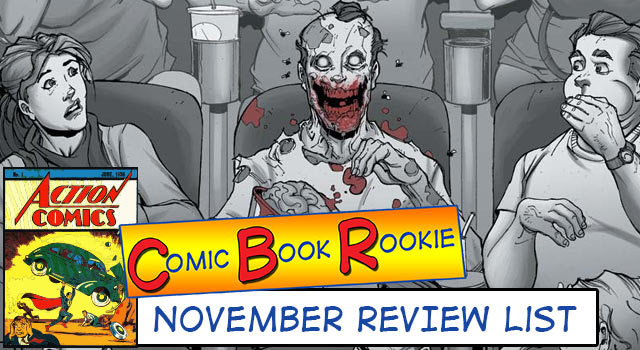 Welcome back to another month of Comic Book Rookie month in review, comic book fans. Let's not waste any time and get right into things since November was pretty exciting. In order to cover the new releases in November, we're going back into the world of digital comics, and we are going in two opposite directions; big publishers and the indies.
DC Comics has had a big push in the world of digital comics recently, and November saw some of the best stories so far. The Adventures of Superman #28 is the story of Kal'el fighting Metallo and, as usual, making a mess of Metropolis. In this issue's comic cells you'll find not just the action, but also small inserts of three lined paper like we all learned to write on in grade school. The inserts are a small child's letter to Superman. The young girl, Connie, writes to thank him for saving her and her family one day when they visited the city and how he inspires her. We learn that she is back in Metropolis now, but not for a vacation. We find out that she is at the children's hospital fighting cancer. It's a great, and heart-warming, piece you shouldn't miss.
Now on to my favorite digital comic and my favorite slacker-turned-superhero; Trevor Trevinski of Knuckleheads. We find our crystal-knuckled hero in a dinner with his cohorts after saving the world the night before, only now he is about to destroy a breakfast that an NFL lineman would have trouble with. Trevor is quickly called away when the diner is being robbed. Will Trevor save the day? Go to Comixology to find out. The Witty banter between characters is, again, some of the greatest out there. You can't help but literally laugh out loud reading this series. Case in point: writer Brian Winkeler recently told me via Twitter that they are bring new meaning to "Zero Dark Thirty." It's true; every now and then a phrase comes out that completely changes things for you. Read this issue, and you'll understand why "Zero Dark Thirty" is now used on a regular basis around Bro Council Headquarters.
Every now and then a great title slips by us and we join the party a little late. After reading it, this isn't a party we are planning on leaving either. Living in the zombie capital of the world (Pittsburgh, PA), and in fact only living minutes from the cemetery used in the original Dawn of the Dead, The Mocking Dead from Dynamite Comics is a great entry into the genre. The battle of Pittsburgh has begun, and it's up to a fanboy to save the world when he notices the outbreak is following a specific pattern. I love this title, not just for the zombies but for sarcastic overtones beautifully written into the dialogue. It's an added bonus that they are using towns and suburbs of Pittsburgh that I can relate to in this series. Pittsburgh represent! The title released the 3rd issue this month but, sadly, it's now slated as a 4 part series. It's written by Fred Van Lente, one of the writers of the New York Times bestselling Marvel Zombies graphic novel series. This title has been flying off the shelves, make sure to grab yours while you can.
Thanks for reading, and we'll see you next month! In the meantime, feel free to check out our past issues here.