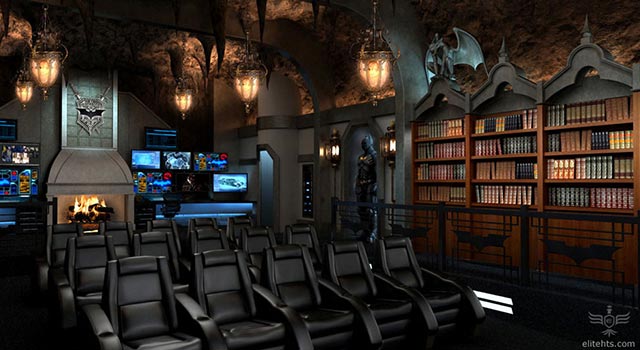 It's no secret that I am a HUGE Batman fan, and I also think that one of the great things about being a guy is having your very own man cave. Of course, mine is modest, just a few pictures, autographs, and jerseys from my favorite sports teams along with my big screen, surround sound, and my video game systems. Sure, I had some ideas for a bigger and better one for when I get a bigger house eventually, but that all got tossed out the window when I saw this: the combination of two of my favorite things into The Batmancave. Elite Home Theater Seating has released some pictures of a Greenwich, Connecticut man who paid for an elaborate home theater system that even Bruce Wayne would be proud of.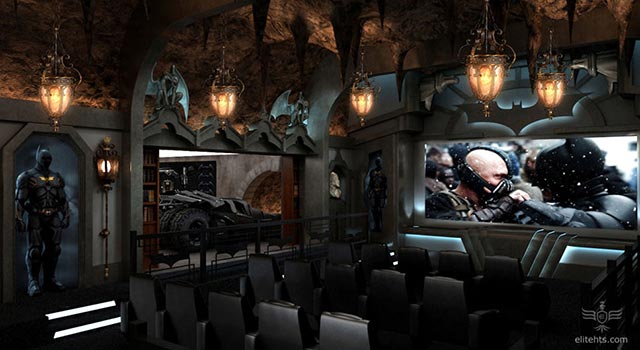 If I ever strike it rich, this is going right in. I mean holy smokes batman. These two bat caves look like they were part of the actual set. Plus, one of them has an actual Tumbler in it! Yep, you can enter your "secret bookshelf" area to see your own personal Tumblr. I have som major bat-jealousy right now.
Who am I kidding, I'd even take the Pirates of the Carribean one you'll see when you click on the source link below. I'd probably add in couches instead of the chairs, but regardless - whoever the very wealthy person from Connecticut is that paid $2 million for this thing, please don't be alarmed if you find me living in your room. Consider yourself warned.
[Source - elitehometheaterseating.com]