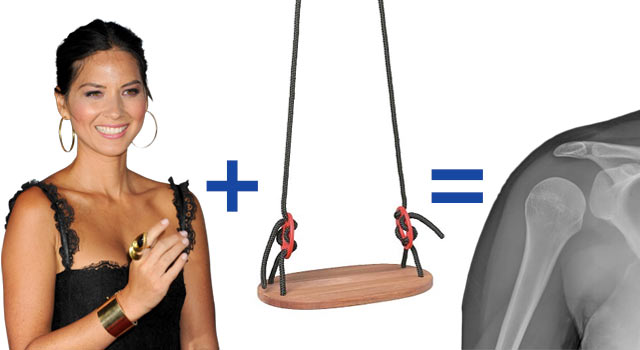 Those who watched Attack of the Show when their cable provider still carried G4 (and yes, I'm still bitter at DirecTV over this), or fans of HBO's Newsroom will be familiar with Olivia Munn. She recently posted a video to the interwebs, but don't worry, it wasn't a Kardashian-like video. Instead, she was vacationing with her boyfriend at a house with a swing in the living room. Yes, you read that right. Well at least they did have one, Skinny Ms. Munn snapped that swing like she was an offensive lineman. Unfortunately, she also suffered a dislocated shoulder during the mishap as well. Here's what she had to say about the incident:
We were in Prague and there was this indoor swing inside of the apartment. I thought it would be really cool to try to get parallel to the second floor and so I was swinging and my brother, an engineer, he was pushing me. He even said to me afterwards, 'You know, I thought to myself she's going to fall on this push or the next.' Because he saw that it got slack at the top. I had been doing this for weeks and I had been fine. I called out to my boyfriend, 'Video tape this, look how high I am getting.' And then on the second push I was squealing with glee. Then it just snapped.
We're not sure which is more shocking; that she took such a nasty spill, or that her boyfriend shoots vertical video.
Check it out below.