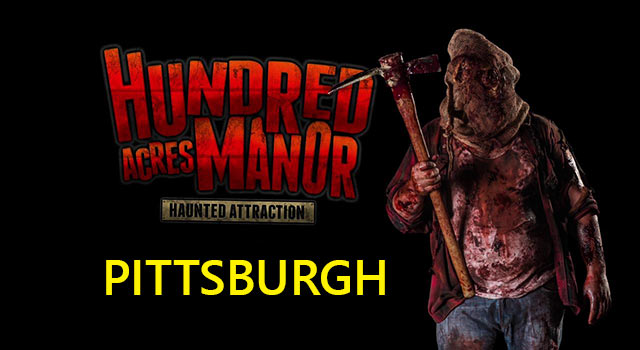 Recently, Hundred Acres Manor near Pittsburgh teamed up with Bro Council for the first ever Brocathalon 5K city run. Their zombies were a huge hit at the race, and we jumped at the chance to check out their haunted house. They were recently voted one of the scariest haunted houses in the country by Travel Channel, TopHaunts Magazine, and HauntWorld.com. Here are three recaps by each of us that went through the attraction.
Ray's Take:
The haunt is in South Park, just a little south of Pittsburgh, and the fun starts as soon as you park. Actors are going through the parking lots and the queue line as you wait to enter. The music is loud, the atmosphere is eerie, and the fog machines are pumping.
The attraction itself is filled with character actors, over 100 creepy un-dead workers, and animatronics that line the house. You want an electric chair? Check. A slaughterhouse? You're walking through it. Dinosaurs? Yep. They're all here.
It will take at least 45 minutes to get through all 6 of the different areas, and the ticket prices are very reasonable. Plus, the non-profit that runs the house has donated over $1 million to Animal Friends and the Homeless Children's Education Fund. Awesome, right?
The layout of the haunt was done by attraction designer Ethan Turon, and he was going for "a sadistic world of unimaginable and unconceivable horrors! Hundred Acres Manor is a true shock-show that delivers an extreme overdose of terror that will leave you crying in a corner."
I have to agree with him.
Liz's Take:
Hundred Acre Manor was terrifyingly realistic! I'd like never to be stuck in a maze with a chainsaw wielding psychopath ever again. We all had a great time and I was impressed by how long it took to get through. Best haunted house I've been to in years!
Kelly's Take:
I wasn't quite sure what to expect when I entered the dark, creepy, narrow doorway of darkness. Let's just say, you're not going to be prepared for what's lurking around each corner. From chainsaws to coffins, hanging bodies, psychedelic tunnels, and zombies galore, you'll get your fill of all that is the Day of the Dead.
Check out the Travel Channel clip below to see a preview, and make sure you check out Hundred Acres Manor before it closes for the season on November 2!