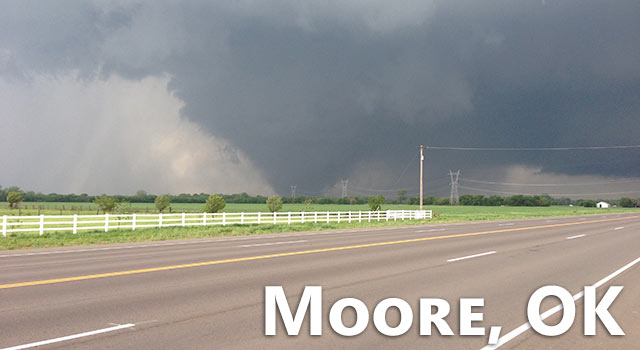 As you probably already know, a massive one to two mile-wide tornado with with winds up to 200 mph killed at least 51 people and injured at least 120 on Monday afternoon in Moore, OK. Our thoughts and prayers are with the victims of this tragedy.
According to the National Weather Service, the preliminary rating of the tornado that hit Moore is at least an EF-4, which is categorized as wind speeds from 166 to 200 mph. This is only one level down from the May 3, 1999 record-setting EF-5 tornado which tracked for over an hour along a 38-mile path from Chickasha through south Oklahoma City. That tornado also hit the suburbs of Bridge Creek, Newcastle, Moore, Midwest City, and Del City with winds measured at 318 mph - the highest ever recorded on the earth's surface. The storm killed 36 people, injured hundreds, and caused approximately $1 billion in damages.
A local NBC affiliate, WMC-TV, had a helicopter capturing the tornado as it moved across the landscape, and they released a time-lapse video of the storm sped up at 10x speed. You can see the tornado ripping across the land, and then quickly, and eerily, disappearing back into the clouds at the end.
The Red Cross has been setting up disaster shelters around Moore, if you are moved to do so you can donate online at redcross.org, by calling 1-800-REDCROSS, or by texting REDCROSS to 90999 to make a $10 contribution.