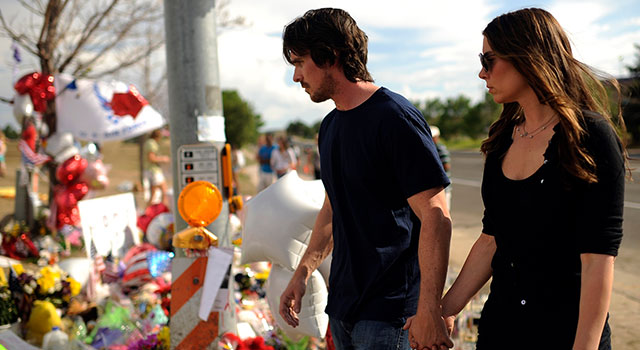 Chalk this up to a classy move - Christian Bale visited the survivors, police officers, and first responders of the Colorado theater shooting on Tuesday. He also stopped by a memorial to the victims of the attack during "The Dark Knight Rises" that injured 58 people and killed 12.
Bale didn't announce his visit for the press to see, and gave the hospital very little warning. One of the victims, Carey Rottman, posted the photo below of himself and Bale on his Facebook page: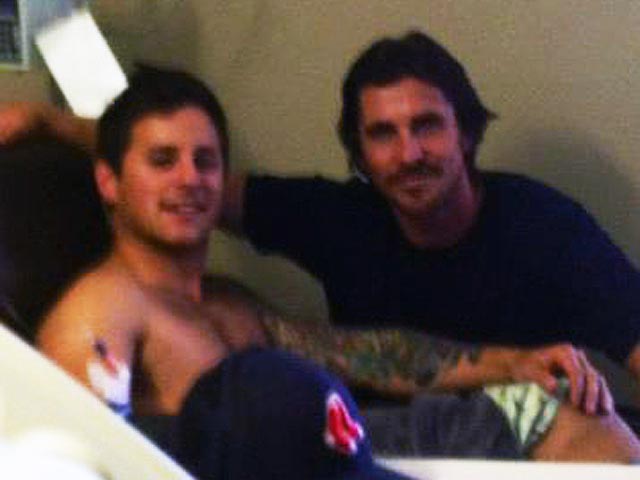 First, Bale went to the Medical Center of Aurora where crowds were beginning to gather. One of the hospital employees said that they were at a luncheon and had no idea what was happening and a large group of people could be seen outside the hospital's entrance. "When we got there, then we found out he was there," said Janie Bowman-Hayes. She continued, "He just said he wanted to come to thank all of us because he has been thinking about this. He knows the whole world has been thinking about this," she said. "He took it upon himself to come and thank us."
Another great addition to the story is that Warner Bros. told a local Denver newspaper that Bale was there on his own accord and not as a representative of the studio.
The staff and victims were very appreciative and thankful for Bale's visit. Bowman-Hayes finished with this "He did this out of his heart, and you could really tell. It was so sincere, it was just, 'thank you.'"
In an era when everyone seems so consumed by themselves, it's great to see things like this happening. Expecially when they seem genuine and not orchestrated. You've already won us over as an actor, and now as a person. Thank you, Christian Bale.