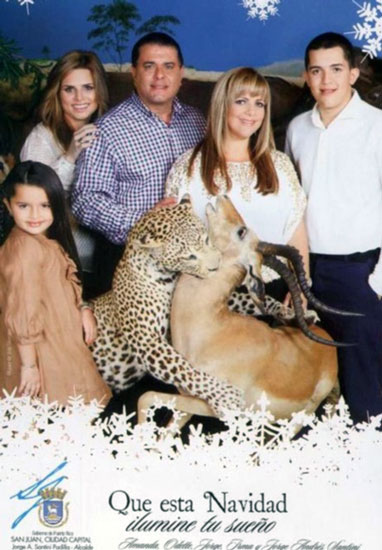 "That you may illuminate your dream this Christmas." That's what this Christmas card says. Really. My dreams have never been about a jaguar eating an antelope in front of my smiling family. Maybe that's a traditional dream in San Juan, Puerto Rico. The mayor of that fine city, Jorge Santini, just sent out a card and that's exactly what's on it.
Santini said he wanted the cards to have the animals on them to promote the San Juan Wildlife Museum. I think he just stirred up enough publicity that he's pretty much guaranteed his chances at retaining his office of mayor at the next election. Nice work, politician.
I did a little research, some polling, and determined that this card is Bro Council, Approved.
Have you got a more ridiculous card this year? Or better yet, do you want to make your own version of this card and send it in? If you do...just throw it in our uploads here.
Click on the picture for a bigger version. You know, if you like smiling families and vicious, attacking animals.