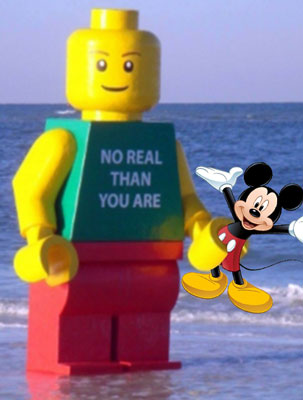 There's all kinds of things that wash up on the beach; driftwood, messages in bottles, and Cubans are all things that immediately come to mind. Giant Lego men aren't high on my list of potentials though.
Jeff Hindman found one this week though. Jeff is a Florida resident who found an 8 ft., 100 pound giant Lego man on the beach this week. No one knows where he came from, is he an Atlantis resident? A robot from the future sent here to destroy Mickey Mouse (see picture to the left) and establish Legoland as the premier amusement park of the future? Or something more, or less, nefarious...
A spokeswoman for Legoland said that the Lego man is counterfeit and is not a stunt by Legoland or their parent company, Merlin Entertainment Group.
The "man's" shirt says "No Real Than You Are," and has the number 8 on the back with the phrase "Ego Leonard." So it looks like Dutch artist Ego is probably to blame.
For now, the Sarasota County Sheriff's Office has the man in "protective custody". My guess is that if no one claims him, Jeff Hindman will make a fortune on eBay.
Check out the video below: