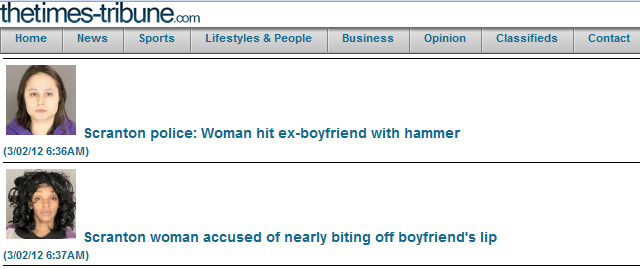 Guys, do yourselves a favor. If your girlfriend ever says "hey, Scranton seems like a nice place to live", run. And run far. Apparently, if you live in Scranton and are in a relationship you could lose a lip or get hit with a hammer. Or at least that's the way it looks based on the headlines of the Scranton Times-Tribune. Those articles weren't edited together by me, they were posted at the same time on their site.
Apparently, in the first incident a dude got hit in the head with a hammer by his ex-girlfriend. They were at a Turkey Hill store in Scranton and she allegedly hit him with the hammer which caused bleeding and a large lump. Nicole Coss, was charged with felony aggravated assault and misdemeanor counts of simple assault and recklessly endangering another person.
Unanswered Questions:
Why did she have a hammer with her at a Turkey Hill?
Did she get some Turkey Hill Chocolate Covered Pretzel ice cream before she attacked? That stuff is good.
Are hammer attacks in Scranton, PA as prevalent as beard attacks in Steubenville, OH?

---
In the second attack, a drunk woman almost bit off her boyfriends entire lip after a fight. He may have been cheating on her, she may have bit his lip off. Who knows what exactly happened? "His lip was almost hanging off," Patrolwoman Jill Foley wrote in the arrest notes for Talisa Nicole Collins, 23. "His lower lip was only attached by a small piece of skin."
When the patrolwoman went to the scene of the crime, the boyfriend had teeth marks on his lower lip, it was severed, and he had trouble talking. Allegedly, Collins tried to punch her boyfriend and missed. He tried to wrap her up to calm her down and she bit down on the lip.
Officers found Collins who said she "bit his lip for self-defense." When the cops asked her whose blood was on her hands, she said "It's my man's blood."
Unanswered Questions:
Is he still "her man" after the attack?
Did she get some Turkey Hill Chocolate Covered Pretzel ice cream for her man after she attacked him? That stuff is good.
Does she really look like Whitney Houston, or am I just imagining it because of how much of her I have seen lately?
Here is one answered question for you: When your girlfriend asks you if you want to move to Scranton, your answer should be 'no'.