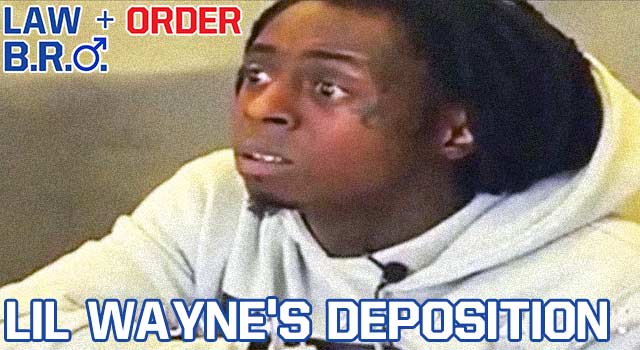 Ipso Factbro: Lil' Wayne Should Probably Be Held in Contempt
So Lil' Wayne is currently in the middle of a lawsuit with Quincy Jones III. Did you know there was a Q.J. 3? I didn't; apparently he's the son of the actually-famous Quincy Jones; who was originally making a movie about Weezy, which Lil' Wayne now calls a "scandalous portrayal." That's not really critical to the story, except to preface why Lil' Wayne was in court giving a truly nonsensical deposition in footage originally obtained by TMZ.
At one point, Lil' Wayne tells the opposing lawyer he asked a "stupid-a** question," not to mention and then goes off on a random rant about a woman's birthday party he attended last week instead of answering any questions about his record sales in 2008. It at one point takes a turn for the crazy/ scary when he starts telling the lawyer "He can't save you," and starts talking to himself.
He's either going to end up in contempt court, under a guardianship, homeless, or with his own reality show on TLC in the near future.
To see the (mostly) hilarious video, check it out here. We linked to that one because there are a few words that Weezy uses that aren't safe for work. You can check out another video from the same deposition below where his memory of all the important moments of his life are apparently forgotten.
[Source - Gawker]