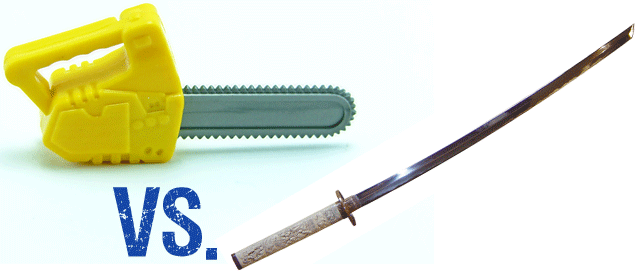 I'll be honest, I have some neighbors that don't like. And yes, I've even thought about physical confrontations on a couple of occasions. Plus, I openly admit that I would love to see Ray hit with a wiffle ball bat...don't worry, it will just leave a welt. But a chainsaw and a samurai sword?
That is what the Australian version of the Hatfield's and McCoy's brought to the table recently. Two warring neighbors got into a fight in which a man names Mark Jorgenson's arm was almost ripped off by a chainsaw and his neighbor, Troy Thornton, lost a finger to a samurai sword. Although the two men began to fight over relatively minor things like "loud music" and "fast driving", their weapons of choice were on the serious side. Police are still sorting through what exactly happened, but the parents of the victims weighed in on the incident, saying this:
After paramedics said that Mr Jorgenson's arm was so badly damaged that they believed it would have to be amputated, his father Laurie told Sydney's Daily Telegraph that the brawl with the next-door family started in the afternoon following complaints about noise.
Mr Thorton's mother, Wendy, confirmed that her son did wield the chain saw, but said he grabbed it to defend himself.
'They (the Jorgensen family) had machetes and bats and we had nothing so Troy grabbed the chain saw,' she said.
The two families agreed they had been involved in an ongoing war but Mr Jorgensen said sorting it out with a chain saw was extreme. 'Fists maybe, but this is just over the top,' he said.
Wow. Two lives ruined over loud music. Can we get Dr. Phil on the air in Australia so that these people can learn to sort out their differences in a normal way?
Please note that at the end of this article from a British newspaper explains what a chainsaw is. I would have thought the average Brit would know this...it's not like they're talking about dental plans.
[Source - DailyMail.uk]