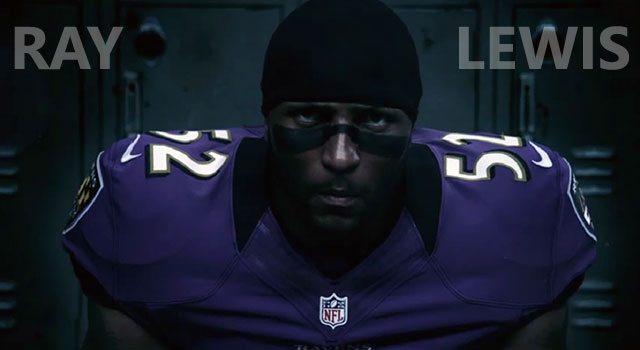 A true test of how great of a player you are is to see how much you are hated by other teams fans, especially your biggest rivals. Hines Ward was always hated by division rivals, but if he was drafted by the Ravens he would have been lauded as a gridiron hero. Tom Brady in a Jets uniform? The fans would love him. What if the Eagles had drafted Eli Manning? Alright, well the fans would probably still hate him. But to be fair, Philadelphia fans hate everyone.
Ray Lewis? He isn't just hated - he is loathed. That all changes though if you stick him in the Steelers defensive lineup or in the Browns defensive backfield - the fans would be buying up his jersey in record numbers. Lewis has been the emotional and physical leader of the Baltimore Ravens for as long as I can remember, and he is consistently the best at his position. In a generation where players jump ship for bigger contracts, Ray played his entire career with Baltimore and recently announced that he is coming back from a torn bicep to play in the playoffs in his final run before he retires. That is the kind of player that people love on their team, and hate on their rivals.
I remember hating him while he was playing for the U of Miami, but when he came to the NFL I liked him despite the fact that I grew up a Cowboys fan. In fact, I lived in Baltimore for a few years during his early seasons and bought his jersey while I was there. Even after I moved back to Pittsburgh and Steeler Country I continue to wear his jersey - much to the chagrin of co-workers, friends, and the general population of Pittsburgh.
After his playing days are done, I'll continue to love the hatred I get while wearing his jersey around Pittsburgh. Whether you love or hate him, the guy is a beast on the field.
Check out the highlight video and tribute to Lewis below. Here is to hoping that the Ravens make it deep into the playoffs. Maybe Ray-Ray can carry the team to a few wins despite that Flacco guy "throwing" the ball.