In our continuing series of "inspiration of the week" we meet Anthony Robles.
It's way past the beginning of the new year, and most of us are done trying to go to the gym from our resolutions. Yeah, like me who is staring at Double Stuff Golden Oreos while needing to lose 15 or so pounds.
And then there is Anthony Robles. The following young man is not only an inspirational figure for sports, but for life.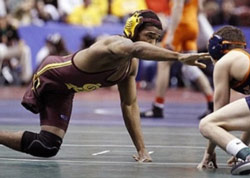 He was born to a teenage mother and had only one leg. The doctors had no reason as to why, and in his own words his mother taught him that God made him that way for a reason. So in high school he tried out for the wrestling team, the smallest kid around and with only one leg, it didn't go so well. But with determination and support from his mother and coaches he finished his junior and senior seasons with 96-0 record, a 2x Arizona state high school champion, and a high school national championship. He found that not many colleges believed in him, however he walked on at Arizona State where he became a 3x All-American and a 2011 national champion, 2011 most outstanding wrestler in a national tournament, and a 2011 winner of the Jimmy V award at the ESPYS.
He now spends his days as a motivational speaker. However he will need to take a little time off of his busy schedule when he's officially inducted into the college wrestling hall of fame with the class of 2012.
Check out his website at www.anthonyrobles.com and follow him on twitter @Arobles125.
Here is a video of his ESPY award presentation. Anthony Robles is definitely Bro Council, Approved.