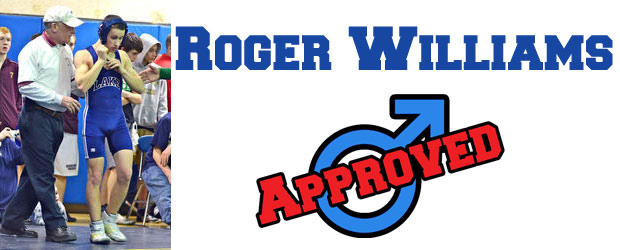 Sometimes, there are articles that don't really need an introduction or an explanation. This article about a blind wrestler is one of those, and it's an article that a Bro Council reader sent to me. I'm going to post the first part of the article here, and if you like it you can check out the full article on the ObserverToday site, which I'll post a link to at the end. It's a good way to get your day started off right...be inspired.
What Roger Williams likes most of all is a challenge.
When he was younger, he played basketball. Then he spent a few years doing gymnastics - "the tumbling kind; hardcore gymnastics," he points out - and later took up one of the most ancient and brutal sports there is - wrestling.
"Someone just suggested (wrestling) to me one day and I tried it out," Williams, a Chautauqua Lake Central School freshman said of his start in the sport. "I didn't have a clue our school (had a program), but they said I should go talk to Coach (Lee) Gilmore, and I did. I've been having fun ever since."
While all these sports are challenging in and of themselves, what makes Williams' participation in each all the more amazing is the fact that he has been without his sight since the third grade.
"I just decided that I would try to take on the challenge," he said nonchalantly of his endeavors.
Though still very young, Williams is already a man of many talents and interests. A couple of years ago he took up art. It started out as a hobby, but soon he was winning a national award for a self-portrait and selling some of his paintings for a pretty penny.
"I made a nice self portrait that looks just like me," he said with a smile. "(I won the award) back in March and then I made a couple of splash paintings that ended up selling for about $100 each, so that was pretty cool, too."
He also loves cars and hopes to one day become a mechanic. But ask those who know the young man what they like best about him and the answer comes in an instant.
"He's probably got one of the best senses of humor around," Gilmore said.
And what's Williams' favorite target? Himself.
"He was at a wrestling tournament a few weeks ago in Ripley," Gilmore began, the smile already breaking out, "and (after Williams and his opponent stepped out of bounds) he came back onto the mat, rubbing his face. So the referee asked, What's wrong Roger?'
'''I got poked in the eye'
"The ref (concerned) says, 'Do you need injury time?'
"'Naw, don't worry about it. I don't need them anyway.'
"And I've never seen anything like it," Gilmore finished, "but the ref burst out laughing."
For the rest of the article, click here.